Around dinner tables in Ireland people are talking about the Belfast rape trial.
During the nine-week trial of Paddy Jackson, 26, Stuart Olding, 25 and Blane McIlroy, 26, all Ulster rugby players and their friend Rory Harrison, 25, every day saw a lengthy queue outside the court room to hear the confronting details of an incident that took place in June, 2016.
In Ireland, the complainant, in this case a young woman, is entitled to life-long anonymity – something particularly important in such a high profile case. But given the public was granted access to the rape trial, her name was soon discussed and published on social media.
The woman, who is now 21 years old, told the court that on the 27th of June, 2016, she completed her exams and decided to go out with friends to celebrate.
According to the Irish Times she spoke "confidently and precisely".
First, she said, she went to a friend's house and there she had a glass of wine. Later she decided to go to Ollie's nightclub, a popular venue in Belfast. Along with a group of friends, the woman found herself in the VIP area, surrounded by the Northern Ireland football team who had just returned from France, and Paddy Jackson and Stuart Olding, who had just returned from South Africa after representing the Irish squad.
As the night wound up, the woman said she was invited to an after-party by a friend and caught a taxi with three women and Jackson. She alleges Jackson simply informed the driver, "I'm Paddy Jackson", and the driver immediately knew who he was – a detail Jackson vehemently denies.
Listen: We're calling ball-tampering our national disgrace. But what about the behaviour of some of our rugby league players? Post continues below. 
Once they arrived, the woman spoke more to Jackson, and accompanied him upstairs to his bedroom. According to her testimony, they began to kiss consensually, but when he attempted to undo the button on her pants she said she did not want to go any further and left his bedroom.
After this encounter, the woman told the court "the attitude had shifted" so she decided to go home but was unable to find her bag. Eventually, she found it in Jackson's room. Jackson, she said, had followed her upstairs and began pulling down her pants. She told counsel her pants got stuck at her knees, at which point Jackson forced her onto the bed and started to have sex with her.
She said she was unable to move, and even though Jackson was aware she didn't want this to happen, he kept going.
According to the woman, she then noticed the door open and Olding walk in. "My heart just sank," she told the court. "I knew what was going to happen. I looked Patrick Jackson straight in the eyes and said 'please no, not him as well.'"
Speaking to the court, the Irish Times noted her voice began to tremble as she tried to hold back tears.
She said someone took her pants off and while Jackson had sex with her from behind, Olding forced her to perform oral sex at the same time.
A woman named Dara Florence was said to have entered the room at this point and the complainant said she tried to hide her face, worried someone might be trying to film what was happening.
Jackson, according to her statement, invited Florence to stay but she quickly declined and left.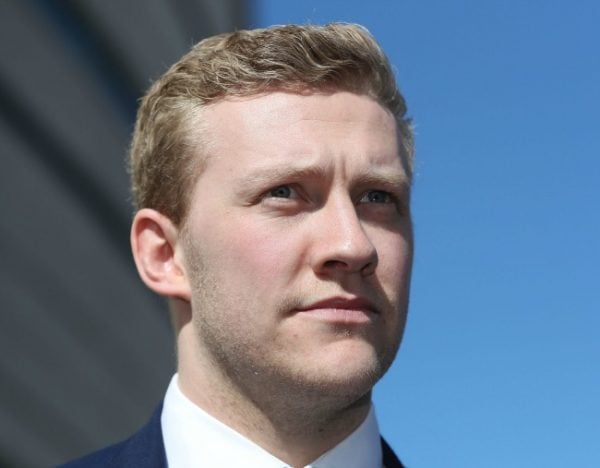 The woman informed the court she soon discovered she was bleeding from her vagina, only to be confronted with another man entering the room. McIlroy, she said, was naked and touching his penis.
Terrified this would happen yet again, the woman said she got up off the bed and pulled on her pants. McIlroy allegedly said, "You f**ked the other guys, why won't you f**k me?" and she said she responded, "How many times does it take for a girl to say no for it to sink in?"
She told counsel she left the party, and Harrison followed her to ask if she was okay before dropping her home in a taxi.
The following morning, she sent a text message to Harrison that read: "What happened last night was not consensual." She also messaged friends, stating she had been raped, but did not want to go to the police because they wouldn't believe her and she felt embarrassed. She then purchased the morning after pill and had a medical examination, which found she had an "internal tear" that had caused the excessive bleeding.  The day after she reported the incident to police.
The men, it was later found, texted about the encounter in the days following.
In a group chat, McIlroy asked, "What the f*ck was going on? Last night was hilarious." In response to a message that was not recovered, McIlroy said, "Did U calm her and where did she live?". Harrison then said, "Mate no jokes she was in hysterics... wasn't going to end well."
McIlroy also sent the message: "Pumped a girl with Jacko on Monday. Roasted her. Then another on Tuesday night," and Jackson and Olding bragged about "spit-roasting" the woman.
In court, the woman was cross-examined by Jackson's highly-esteemed lawyer Brendan Kelly, who had been flown in from London.
He worked hard to present a very different story of what happened that night.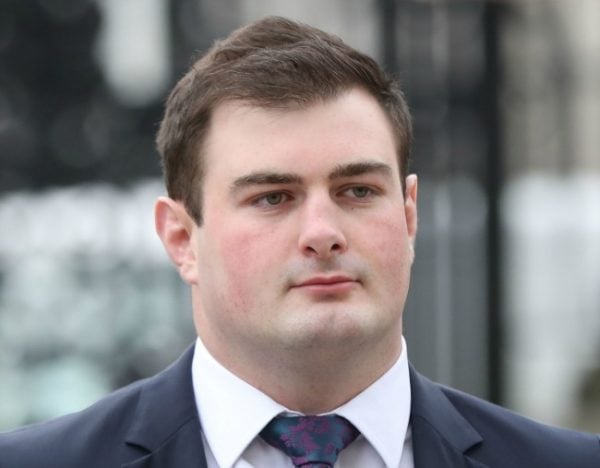 The woman, he told the court, knew who Jackson was, excited by his celebrity status. Kelly uncovered CCTV footage that pictured her touching the knee of one footballer, and the arm of another.
He said she accused the men of rape because she was terrified of what people would think of her if they knew she'd had consensual group sex with Jackson and Olding.
Her blood stained underwear was passed around the courtroom, with Kelly insisting she had been bleeding before the encounter.
Kelly questioned why she'd omitted the detail that she'd been orally raped to her friends, to which she replied she did not know whether that constituted rape, and was reluctant to go into the degrading details of what had happened that night.
Gavan Duffy, representing Harrison, who had not been accused of anything by the woman but had been charged by police for withholding information, suggested the woman had been staring at Jackson all night, transfixed by him.
She was interrogated for a total of eight days.
Florence, the woman who entered the room, testified that she believed what she walked into was a threesome and not rape.
Dr Janet Hall was called upon by the defence, and stated the medical examination could not definitively determine the woman's vaginal bleeding was a result of tearing. It could have been, according to her testimony, menstruation.
And then came Jackson's account of what happened that night.
He said he kissed the young woman, and she became upset when he said he couldn't tell her what his name was.
A little while later, he said he went to his bedroom, and she followed, before deciding to perform oral sex on him. He then noticed, he told the court, Olding enter the room, and he "smiled at him and waved at him".
According to his testimony, the woman then began performing oral sex on Olding, at which point Jackson noted the blood but assumed it was just her period.
There were inconsistencies in the men's accounts when it came to McIlroy's presence, and the complainant's representation argued the men had gathered in the days following to confirm their story - worried she would go to police.
In her final words, the judge said: "This has probably been the most difficult trial that any jury in Northern Ireland has had to sit on."
The jury of eight men and three women deliberated for three hours and 40 minutes, as the court waited anxiously for a verdict.
The four men were found not guilty of all counts.
They celebrated with their lawyers and families, relieved to have put this behind them.
In all the commotion, most people didn't even see the young woman leaving through a side entrance, perhaps wondering why she ever reported the incident in the first place.
If this post brings up any issues for you, or if you just feel like you need to speak to someone, please call 1800 RESPECT (1800 737 732) – the national sexual assault, domestic and family violence counselling service. It doesn't matter where you live, they will take your call and, if need be, refer you to a service closer to home.