Caroline Thurling is a Melbourne based counsellor, coach and consultant.
After a number of years coming to terms with involuntary childlessness, Caroline says she developed a tailored therapy that responds to emotional, psychological and social experiences unique to women who have become childless without choice.
She tells Mamamia about her story and her therapy.
Like so many of us, I was a "high functioning" griever. I maintained a successful career, was reliably present at gatherings with friends and family, actively supported loved ones in need and, (ironically in hindsight), progressed my studies in counselling.  While a chosen few knew I was "sad" coming to terms with childlessness, no-one knew the depths my grief was taking me or indeed where it nearly took me.  I began to question my sanity:  why do I feel "this" upset? I know women without children, they seem fine. Why is it just me that feels this way? Have I lost my mind – I shouldn't be feeling "this" bad. Why am I here?
As a proud advocate of counselling it may be surprising to know that I resisted seeking help for over a year. I didn't want to say out loud: I am childless.  That, to me, would be the end of who I believed I was – a mother. I desperately wanted to hold on to that and the idea of facing that well-worn term of 'letting go' struck a fear in me like no other. What would be left of me if I did?
Eventually when I did seek help – it didn't work.   The therapeutic relationship is a two-way street and I tried as much as my two counsellors and one psychologist, to explore and connect my sense of loss to a meaning so I could begin to heal.  The problem was not in the quality of therapy but in psychological and sociological theory – or put simply, my loss didn't "exist".  My therapists were left to borrow from a number of approaches that simply didn't fit the complex experience of our sense of loss and grief.
Frustrated, lonely, angry, and deeply sad, a glimmer of my former self, my fighting spirit, muscled its way through. It sparked an unfamiliar belief in myself that I could help solve the missing link in therapy for involuntary childlessness.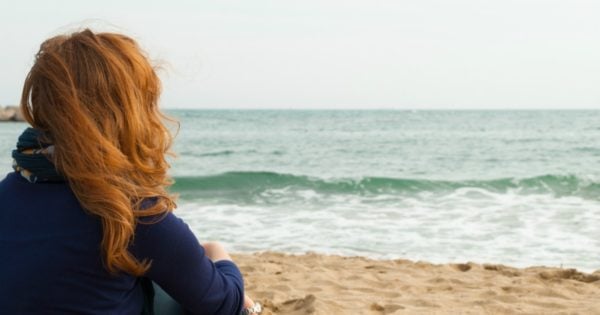 "Our loss is real." Image via iStock.
With ninja-like commitment, I searched, examined and questioned it all – associated theory, the media, philosophy, research, counselling peers, friends, family, workmates, government....then I discovered Gateway Women – a global online community for involuntary childless women around the world.  Meeting my tribe was the focus and inspiration I was looking for.  All the research I had done began to crystallise in our shared experiences.
The epiphany
Our loss is real. What confuses and complicates it and in turn, exacerbates grief into psychological anguish, is the loss of our self-concept as mothers.  We are women "wired" for motherhood whether actively conscious or unconscious. Our inherent maternal qualities are the DNA of our personality and behaviours.  That's not to say we would all parent the same way, but rather we have a shared foundation to our identity – our reason to be.
The challenge for therapy is to carefully unpack and distinguish the loss of children while protecting and embracing maternal qualities.  Therapy needs these unique qualities to assist in healing and in the discovery of who we are without children.
Involuntary Childlessness Therapy
At the heart of it, Involuntary Childlessness Therapy (ICT) believes engaging with individual maternal identity is crucial to recovery and self-discovery.  The therapeutic goal is to evolve a version of ourselves that unites existing maternal strengths within a new self-concept.   I like to call it: You version 2.0!