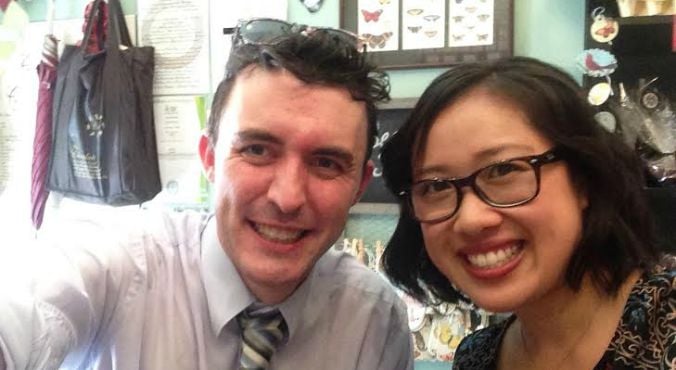 Image: Supplied.

By Jeffrey Charles
I'm in an interracial marriage.
I'm a white guy. A white guy who goes all the way back to the First Fleet. And I am married to an Australian Chinese girl.
This is what you'd see if you saw us walking down the street: a white guy that looks like a vampire, next to a petite Asian girl and a baby that's a mix of the two of us. What would you think about us?
RELATED: The 12 challenges that prove your relationship is indestructible
I'll give you an insider's perspective.
Many assume that I have a fetish for Asian women. This fetish is also known as 'yellow fever'. I've heard this term from Asian and white people. 'Yellow fever' is the colloquial (and kind of racist) term for anyone non-Asian who is crazy about Asian people.
I don't think I have 'yellow fever'. I've dated white girls. I've been attracted to women from many different ethnic groups. I find the term to be sort of offensive and racist. Like there's something abnormal about me being married to a Chinese woman. I haven't gone on a rant when I've received this question, but I do think less of people that ask me the question.
Another question I've been asked is: Are you an 'Egg'? That is, white on the outside, yellow on the inside. I'm not an 'egg'. I like Chinese culture, but I'm not trying to be Asian.
RELATED: The science of a successful first date – and a happy relationship
Unfortunately, I get other kinds of racist of racist propositions and questions. On several occasions I've been asked to make friends with someone's brother because that person is also 'married to an Asian'. It's as if I've met every Asian person in the world, and I've never even been to China.
Many assume that my wife Carla can't speak English, just by looking at her. Chinese people will often start speaking to my wife in Mandarin or Cantonese and they sometimes give her a hard time because she can't speak those languages. (Post continues after gallery.)
Our favourite happy celebrity couples .
I did become briefly obsessed with learning Chinese, because I wanted to impress some of wife's family. This made me look great, even though I gave up learning after two months. My wife eventually got me back when she tricked me into ordering something using a Cantonese word at yum cha and everyone laughed at me. Apparently I was ordering a 'poo'. Serves me right for being a smart-arse.
There have been a few incidents where we haven't been accepted, such as the time we were in Chinatown in Adelaide and some Chinese girls pointed at me, laughed and called me a 'gweilo' (a racist term which roughly translates in Cantonese to 'dead ghost man').
It didn't really bother me, but it really bothered Carla.
RELATED: "This season Adam Goodes has been treated disgracefully. It needs to stop."
There was another time when we were searching for a rental apartment and the real estate agent looked at me and said, "Jeff, we'll need a copy of your passport". The lady then turned to my wife and said, "You'll also need to bring your visa", even though Carla was born in Australia and has a thick Australian accent.