The Rebel Women's Big Bash League is making headlines for smashing last summer's ratings, and bringing new fans to the sport. Two Saturdays ago, the prime-time match between the Sydney Sixers and Melbourne Stars attracted a national audience of 422,500 viewers, peaking at 629,000 and interest in girls playing cricket is surging as a result.
Jane Moffat, Cricket Australia's National Female Participation Manager, attributed the growth to the appeal of the WBBL, the Australian team's success in the recent Commonwealth Bank Women's Ashes Series and the emergence of players including Ashleigh Gardner, Elyse Villani and Beth Mooney as strong role models.
"Another key factor has been the opportunity for young teenage girls to play in a local all-girls competition with their friends," said Moffat.
"Research through Roy Morgan showed there is huge interest in cricket from girls, but they want to play in an environment that suits them – so that's what we've helped clubs and associations provide and promote."
And that's exactly how fifteen-year-old Alicia Humphrey got into the game.
Alicia plays in the Sydney Sixers Girls Cricket League and is one of the 24,000 teenage girls playing organised cricket in either club or school competitions. And we asked her to explain why the sport is a genuine summer love.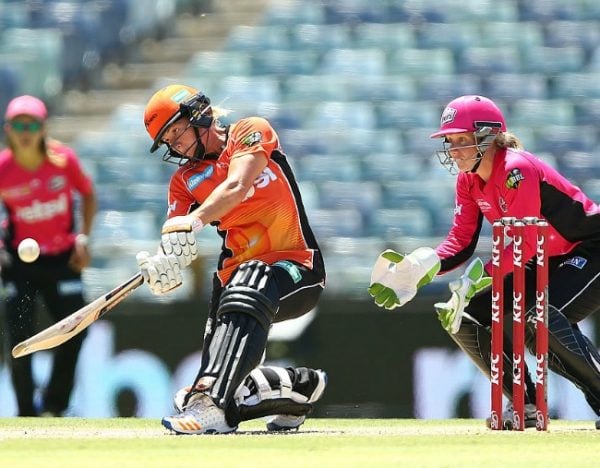 "I'd be lying if I said I have always loved cricket; that just isn't true because cricket was once something my brother played with his friends and Dad watched on television during the summer.
"It wasn't until I turned 11 that I donned the cricket whites for the first time, and that was to play in a Friday night all-girls competition at my local oval. My Dad suggested for me to give cricket a go – and I'm glad I did!
LISTEN: Why Mia Freedman is obsessed with the WBBL. Post continues after audio.

"The competition was friendly, and I really liked that no one really seemed to care if you bowled a wide or were out first ball. I've played ever since.
"Cricket is now my favourite sport. Every Saturday I play two games and I can't imagine summer without the Big Bash League or the WBBL. Cricket is also a very social sport, and that is one of the reasons why my friends and I play.
"I also like the supportive nature of being part of a team because it means you can push yourself in the knowledge there are people willing to help if things aren't working out.
"Another important lesson I've gained from cricket is it's important to celebrate small victories, such as bowling a good ball or playing a good shot. That's something I think helps your self-esteem.
"Cricket has also re-enforced to my friends and I the importance of team work. You see, there is no situation in cricket when only one player is needed because everyone can be involved in every ball when your team is fielding... you see, even if you just walk in with the bowler you're helping to put pressure on the batter. You also quickly realise the need to work as a team to avoid giving away extra runs.

"I support the Sydney Sixers WBBL and BBL teams because they're awesome, and I also like that the Sixers are very supportive of girls' involvement in cricket. My favourite WBBL player is Ellyse Perry because she is an amazing bowler and batter. I've also been inspired by the fact she's been able to overcome various injuries and I also admire her being a tremendous advocate for females in sport.
"Cricket is an amazing sport, and, just as the Australian Women's Cricket Team and the WBBL continue to create more incredible female role models for girls, there is ever-increasing opportunities for everyone to get involved in a sport that is fun to play, helps to build self-esteem and allows for you to make plenty of friends.
"There was a time when I would never have believed I'd fall in love with cricket, but these days I can't picture my summer without it . . ."

LISTEN: Here's what women are talking about this week on Mamamia Out Loud - Meghan Markle's Family Christmas Is Scarier Than Yours.