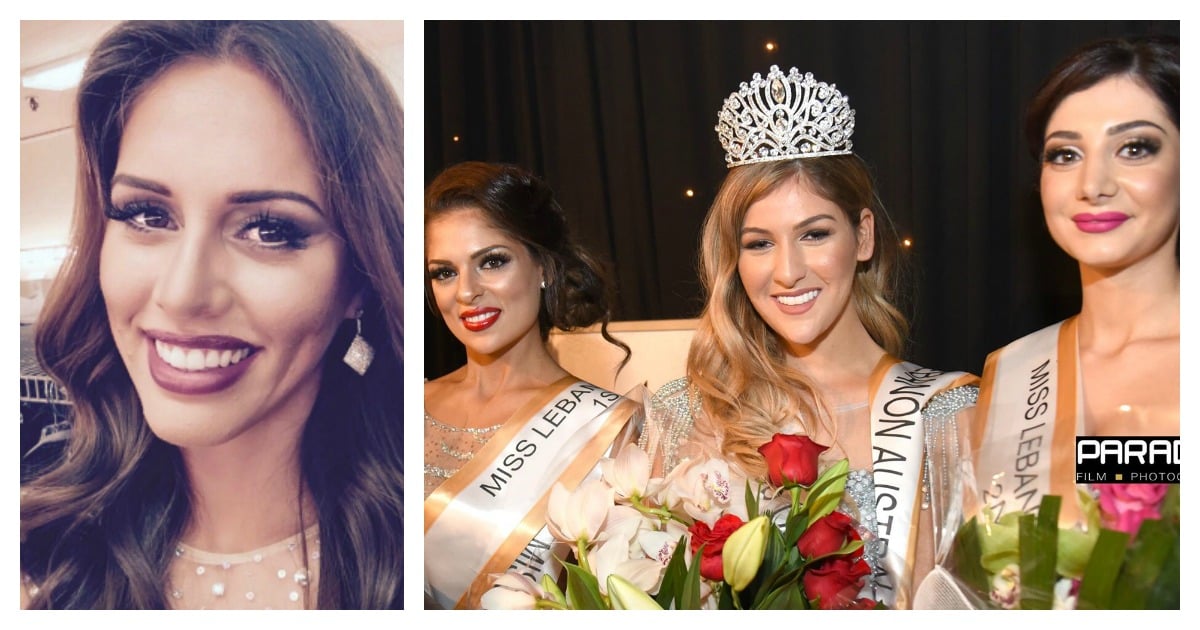 Australia's best-known former deputy mayor, Salim Mehajer, is making headlines again this week after his sister Mary took home the title of Miss Lebanon Australia on Sunday. But questions have been raised about the fairness of her win, with fellow contestants claiming the pageant was 'rigged' and she 'entered late.'
Amid complaints that Mary's win might have been influenced by the fact that her brother's business, Mehajer Bros, was a major sponsor of the event, Mamamia spoke to a former Miss Lebanon Australia winner about her experiences in the pageant.
Deedee Zibara, who was crowned Miss Lebanon Australia in 2013, explained to Mamamia that the pageant "…is for women of Lebanese decent only, and is meant to celebrate women of the Lebanese culture who do good for, and make a difference in their communities."
Deedee is pictured third from the left. Image courtesy of Emile Gebrayel photography. 
"Girls enter pageants in the hopes they will be able to make a difference to their community through charity and volunteer work."
We asked Deedee whether Mary Mehajer's late entry (she entered just three weeks before the competition date) should have disqualified her.
"I always enter pageants late so I'm not really one to talk," said Deedee, adding "but there's always late entrants to pageants so it's not a huge deal. It only seems to be a huge deal to others when they're the ones who end up winning."
Image supplied. 
In terms of the winnings, Deedee said while "it changes from year to year, in my year I was granted a huge Nude By Nature Makeup hamper, $2000 cash and some jewellery."
Strong financial backing may not win you the competition but it is an advantage in itself.
"Pageants can be a serious expense, and this is before even entering," said Deedee.
"Generally some portion of these [expenses] get covered by sponsors as a PR tool, but when not sponsored, girls must pay for their own flights, accommodation, gowns (which are NOT cheap), heels, jewellery and sometimes hair and makeup for the night."
And once you win, the "time spent organising charity events, making appearances, delivering speeches feels like a full-time job."
Deedee, who also won Miss Earth Australia in 2011, and has competed in a number of pageants, says she "was left with a bad taste in my mouth after winning Miss Lebanon 2013 and also Miss Lebanon Emigrant 2013 - the international equivalent.
"Pageants can be a serious expense, and this is before even entering." Images supplied. 
"It was nothing like what other internationals were like to say the least. The national director and international director were very close and this happens with sponsors of pageants too, so it left me to wonder what exchange happened behind the scenes."
Nonetheless, Deedee says "to discount Mary's win would be naive. She very well may have been the stand-out on the night, and as I do not attend Miss Lebanon Australia any more so I have no right to comment on her performance."
Watch as Mary Mehajer is crowned Miss Lebanon. Post continues after video. 

But she says it's crucial for girls to be wary of what goes on behind the scenes of these pageants.
"It's an environment where being taken advantage of by management is commonplace because of the goodwill of the contestants to do things for 'charity'. I've been around many years, and I've only ever met one national organisation I would let my daughter enter. We have strayed from the real meaning of pageants in Australia - the charity aspect - and I feel the dark underbelly of some of these Australian organisations should be exposed."