Get ready to start seeing people on your Instagram feeds sweating it out in infrared saunas, because this is the latest trend influencers like Sammy Robinson and Steph Smith are loving.
Gone are the mist-filled and tiled sauna rooms, which are being replaced with new 'infrared sauna technology' which use infrared light to create heat.
Speaking as someone who voluntarily locked herself up in a wooden, infrared sauna box for 45 minutes, I'm a fan.
Trialling the treatment at Surry Hill's yoga and wellness studio, Body Mind Life, I arrived to my appointment well-hydrated, as per the website's instructions, and ready and eager to sweat it out.
Once I checked in with the receptionist, I was led to a private, dimly lit room which smelt pleasantly of essential oils and in front of me was a wooden, infrared sauna box which had been preheated to 65 degrees celsius. I then took off the bulk of my face makeup (the studio recommends you go in with 'clean skin' to "clear out all the toxins and impurities"), de-clothed and spent the next 45 minutes sitting on a towel letting my body do its thing perspiring.
To keep myself entertained, I listened to a podcast through the aux cord connected internal speakers.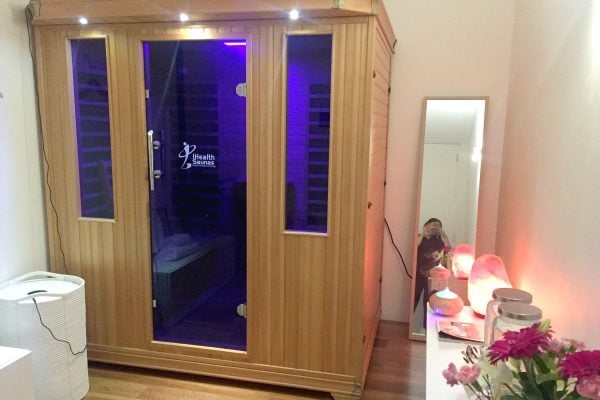 While some of the benefits of the treatment include better sleep, relief from sore muscles and joint pain, making it great for recovery post-exercise, in 2017 Gwyneth Paltrow also claimed to E!Online that she believed the therapy helps "clear toxins, decrease inflammation, soothe muscles and increase your overall energy".
Other celebrities like Jennifer Aniston, Lady Gaga and Cindy Crawford are also fans.
Personally, I thoroughly enjoyed the experience as well. I found the 'dry heat' created by the infrared light to be much more tolerable and less overwhelming than the steam-filled variety which can often leave me light-headed.
According to Livestrong, you can also burn up to 400-600 calories in one 30 minute session, which is pretty amazing, especially when compared to the fact that 30 minutes of jogging or swimming burns around 300 calories.