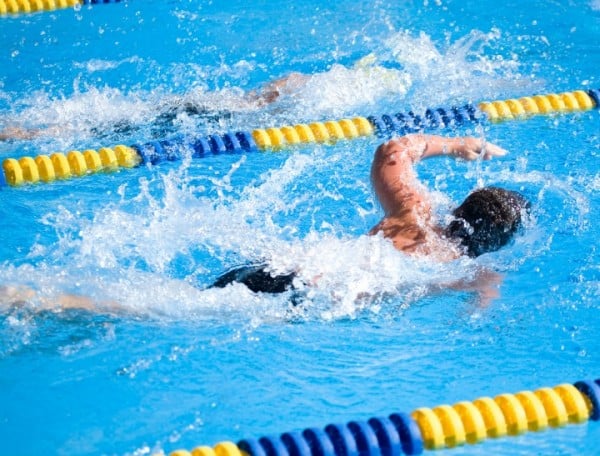 By Simon Reid, The University of Queensland and Una Ryan, Murdoch University.
Summer holidays are upon us, and many of us will finally get to spend some lazy days by the pool. But how can you ensure this pleasant experience doesn't leave you with any nasty surprises?
Many infectious bugs (micro-organisms) use water to spread to new hosts. As such, swimming pools can be a major source of gastrointestinal illness.
Many waterborne outbreaks are never identified. Fewer than 10% of ill people go to their doctor and most of these don't submit samples for laboratory testing. Even if they did, organisms are difficult to detect in water and they're often gone by the time the investigation takes place.
What kinds of bugs live in pools and spas?
The majority of bugs that end up in swimming pools originate in our gastrointestinal tract and arrive via faecal contamination (poo) or are washed off a dirty bottom.
The tiny, single-cell parasites Cryptosporidium and Giardia are the leading causes of pool-related gastroenteritis in Australia and worldwide. These parasites can cause diarrhoea, dehydration, weight loss, abdominal pain, fever, nausea and vomiting.
Cryptosporidium or Giardia are particularly suited to waterborne transmission. This is because they're resistant to chlorine and highly infectious. A small amount of contaminated faeces is enough to infect many fellow swimmers.
A number of viruses and bacteria – such as Shigella spp, Escherichia coli and Norovirus – also spread via swimming pools, causing gastroenteritis. Symptoms are similar to those usually associated with "food-poisoning": vomiting, diarrhoea (sometimes bloody), fever and stomach cramps.
Some kinds of E. coli may also produce a harmful toxin. Shiga toxin can cause bloody diarrhoea and hemolytic uremic syndrome (HUS), a type of kidney failure. But this is most commonly associated with food and not swimming pools.