Kendra Harding is the founder of Ooroo Australia and spends much of her time working with the community art centres and the artists in the top end of northern Australia. This is where her fabrics are sourced.
Her brand is all about supporting Indigenous artists and local art by sharing their stories through beautiful accessories to those that appreciate high-end style with a point of difference.
Oh, and you can get 10% off Ooroo designs for the next two months using the code ladystartupooroo. You're welcome!
Read Kendra's interview with Mamamia below…
What is Ooroo Australia?
Ooroo Australia's handbags and accessories are made in Australia and feature hand silk-screen printed Indigenous textiles by some of northern Australia's most prestigious and award-winning artists.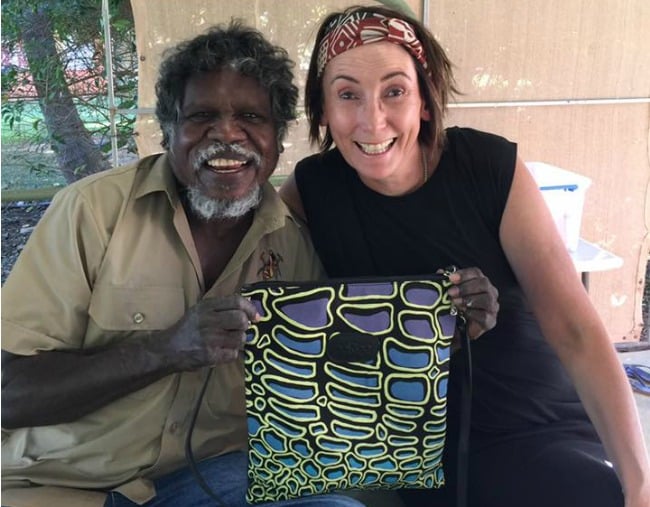 Kendra Harding (right). Image via Facebook.
The bespoke collection is handcrafted by a master leather craftsman who studied at the London School of Fashion Design and honed his skills working for the House of Dunhill, Burberry and other high-end companies in London.
Classically styled, the unique range is inspired by art and Indigenous culture. The textiles are ethically procured from Merrepen Arts from the Daly River region, Injalak from West Arnhem Land, Tiwi Designs from Bathurst Island and Nagula Jarndu from Broome. Each handbag is accompanied by a story card approved by the artist explaining the textile artwork and the story or the dreaming represented.
What were you doing before you went into business for yourself?
Starting a family, raising money for local community projects and being a hairdresser by trade.
What made you want to start your own business?
To me, it seemed turning 40 was a perfect time to leap into the ocean and lose sight of the shore. The allure of working from home so that you can spend more time with your family was appealing. So was the flexibility of setting my own hours.
Buying the first edition of Collective Hub magazine inspired me to start my own business and get the ball rolling. I think most women spend their time and younger years developing a chosen career path, learning new skills and finding new interests, and then some times entrepreneurial ideas are born.
How did you come up with the name?
My mother-in-law used the phrase a lot and it means along the lines of "nice to meet you, see you again sometime." Being an all Australian product, it suited the tourist market as well as the wider market.