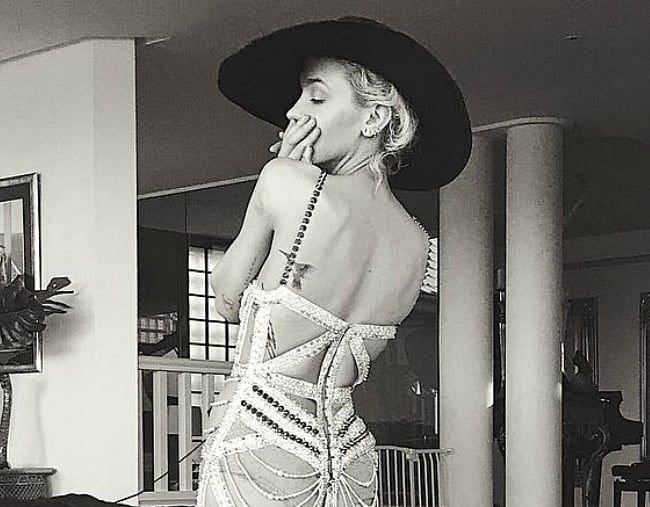 You know you've flipped tradition on its head when your dress gives 'blushing bride' a whole new meaning.
Model and media personality Imogen Anthony, 26, has done just that, posting a photo of herself in a backless, frontless, bumless bridal gown on Instagram.  The dress, designed by Sydney-based designer Sarah Joseph of Sarah Joseph Couture, certainly caught out attention.
The famed girlfriend of Kyle Sandilands, 46, simply captioned the photo:
"Fittings."
Subtle.
ARE YOU ENGAGED OR AREN'T YOU? We need to know. It's probably yes.
Anthony and Sandilands have been dating loudly since 2012, and just like Anthony's bridal bum, almost nothing is off limits when it comes to revealing interviews.
In February he admitted a recent stay at a hotel in LA cost him more than a quarter of a million dollars because of the parties. In March he detailed their first sexual encounter. In July KIIS FM listeners heard about an explosive fight between the pair, which ended with Anthony jumping on the front of his Bentley yelling words we'd rather not repeat here.
Naturally, marriage is the obvious next milestone. Even though Sandilands didn't really like it the first time around.
In fact, just this week Sandilands called his last marriage to singer and former Scandal'us pop star Tamara Jaber 'bullshit' because he doesn't reckon he said the words 'I do'.
"It was singing non-stop. As a matter of fact, I'm calling BS (sic) on the whole wedding! I never said anything," he said on his radio show, KIIS.
Harsh. More than harsh. Hopefully he remembers to say those two magic words this time.