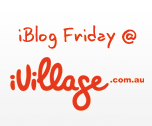 At iVillage we're passionate about supporting Australian bloggers. That's why we've created iBlog Friday.
It's a chance for bloggers introduce their favourite post of the week to iVillage readers and for our community to read what Aussie writers are up to.
Here are the bloggers who have sent their submissions this week. Happy reading!
Renee Wilson of Mummy, wife, me talks about how hard it is to change your life and run your own race in her post Being true to yourself.
People like my husband, Dave, are effortlessly true to themselves. Dave is confident in his beliefs and in himself. He is his own man and runs his own race.
I don't find it as easy. I feel that I have spent a large portion of my life doing things to please others and to live up to their expectations. I've let people talk me into doing things that I was never really sure were right for me. As a result, I've made some life choices that weren't my choices at all. I have always spent too much time worrying about hurting people's feelings and not being who THEY want me to be. I have my own opinions and my own thoughts, but I've often been too afraid to make them heard.
Read the rest of Renee's post here.