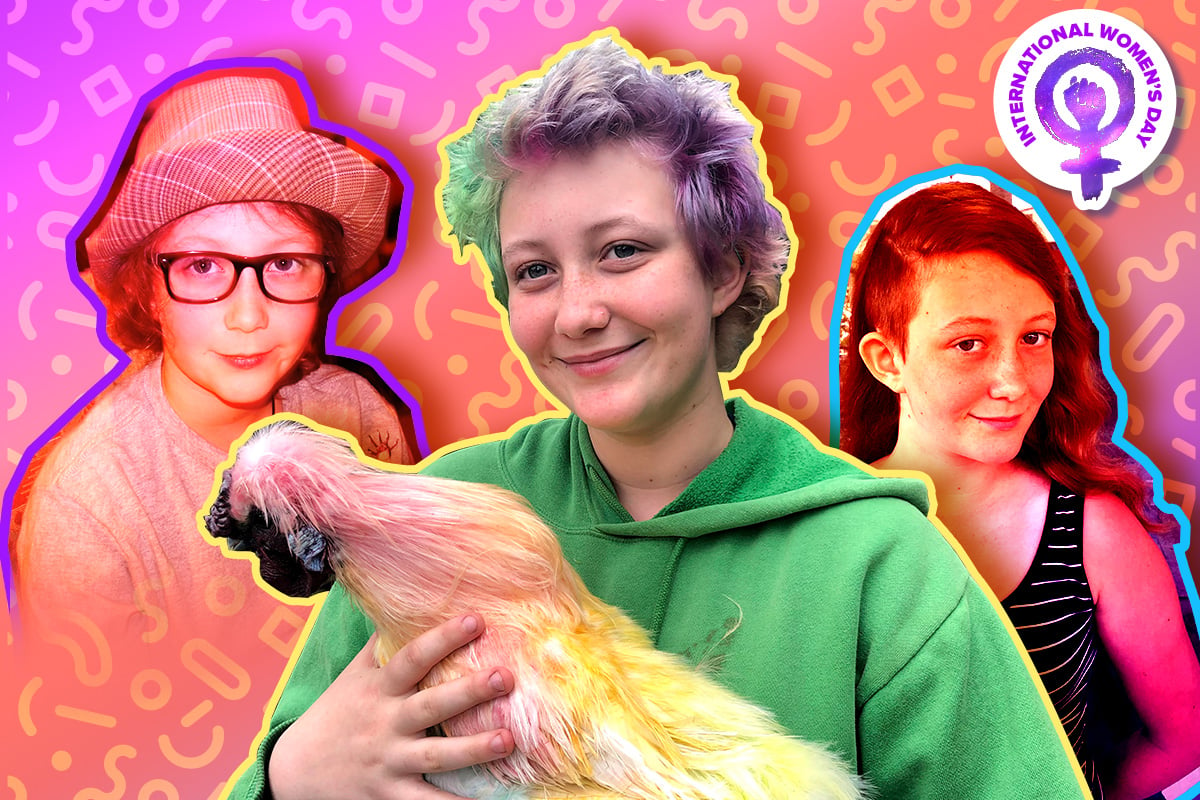 At Mamamia, every day is International Women's Day. But this year, we're celebrating March 8 by sharing stories from some of Australia's most influential women, as well as columns from voices spanning 5 generations. Here, 15-year-old Oscar shares his experience as a feminist, trans teenager. You can find all our International Women's Day stories on our hub page.
My name is Oscar Martel. I'm a fifteen year old queer, transgender, kid who uses he/him pronouns. Even before I realised I was transgender, the adult women around me made sure I had a feminist upbringing. I filled my Instagram feed with feminist pages using words I didn't know – intersectional, third-wave, misogyny. I took to the comment section (never a good idea), and battled against republican, and edgy meme pages.
Meeting my best friend – a nonbinary, punk, thirteen year old – was revolutionary to me. It took me two weeks to realise I was queer, and about six months to begin questioning my gender identity. Then, I saw in a thread about abortion: "If you're not a woman, you don't get a say in this."
That shattered me, because I agreed with it. It was disgusting that men thought they could tell people what to do with their own bodies.
But feminism was so important to me. I felt like if I accepted my gender identity, I would lose my part in this movement that had become so important to me. If I came out as transgender, even to myself, I would be betraying the feminist movement I had come to love.
I felt like I had to choose between my trans identity, and my feminist identity. Sure, men can be feminists - and male feminists are important - but if I came out I would be a man who tried to talk over women. Or, worse, I'd never be a 'real' man because I still engaged in feminism. Even worse, I'd be betraying the ideals that my feminist role models stood for. I know, and knew, full well that feminism is trans inclusionary but that didn't make it better.
Gender politics are complicated, especially for a feminist trans kid. The intersection between my gender identity and my feminist worldview wasn't something that was easy to navigate. It wasn't some big revelation that led me to accept myself, it was gradual and painful. It involved coming out again, and again, and again, and again, and sometimes being outed. It took time to realise that I could be trans and present in the feminist debate, and still be valid as a man.
Feminism is intersectional. As it becomes more visible, it becomes far more inclusionary. The Riot Grrl punk that had become so important to me was exclusionary of black women. The campaigns for women's rights to vote again didn't include non-white women for decades. Even many of the groundbreaking civil rights campaigns neglected the LGBT community.