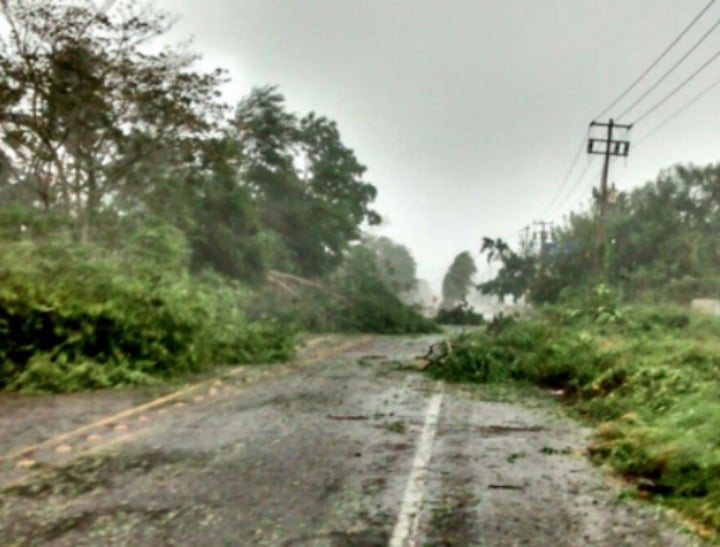 By ABC NEWS.
Hurricane Patricia, the most powerful tropical storm measured in the Western Hemisphere, has struck Mexico's coast, tearing down trees, moving cars and forcing thousands to flee beachside homes and resorts.
The category five hurricane made landfall at Playa Perula in the state of Jalisco, Mexico's meteorological service said, packing maximum sustained winds of 270 kilometres per hour, according to the US National Hurricane Centre.
The hurricane made landfall in the town of Emiliano Zapata, about 95 kilometres west of the major port of Manzanillo, National Water Commission director Roberto Ramirez told Milenio television.
#Manzanillo #huracanpatricia @PedroFerriz @Foro_TV @AristeguiOnline my vídeo @BBCBreaking #HuracanPatricia pic.twitter.com/pcw0uFRfMw

— Oscar Flores (@omegarelojes) October 23, 2015
The NHC said Patricia weakened marginally at landfall. Hours earlier, the hurricane peaked with winds of 325 kilometres per hour, even more powerful than the 315-kilometre-per-hour winds of Super Hyphoon Haiyan, which left more than 7,350 dead or missing when it struck the Philippines in November 2013.    "We are facing a natural phenomenon, a force that we have never seen before," president Enrique Pena Nieto told Radio Formula earlier in the day. "We will face difficult moments."   Warning of a "threat of great scale" Mr Pena Nieto said the government's priority was to "protect and save the lives of Mexicans".   The US Hurricane Centre has warned that Patricia was a "potentially catastrophic" hurricane and US president Barack Obama said disaster aid experts were on the ground and primed to help.    National disaster fund director Jose Maria Tapia Franco, said 400,000 people were living in vulnerable areas. There were no initial reports of casualties after the storm hit. 
Thousands of tourists caught in hurricane threat.
Efectos de #HuracánPatricia en Melaque #Jalisco. Reiteramos petición a ciudadanía de resguardarse. Llame al 088 pic.twitter.com/VqWsh9CFlP — Policía Federal Mx (@PoliciaFedMx) October 23, 2015