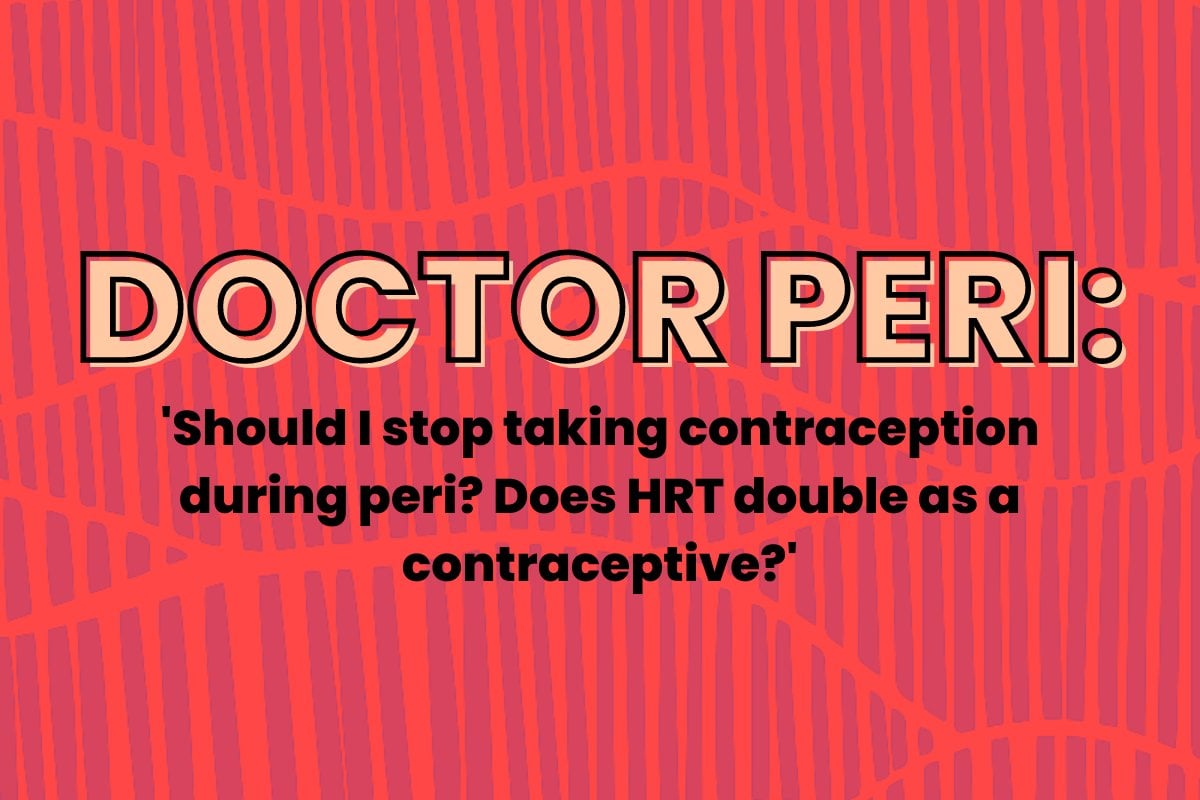 Dear Doctor Peri:
I am on the contraceptive pill... will I know when I've started perimenopause? Should I stop taking it to be aware of the symptoms? What contraception are other women using during peri? I've heard HRT doubles as a contraceptive. Is that true? Help!
Dr Peri says:
Firstly, HRT does not contain a high enough dose of hormone to suppress ovulation and should not be relied on for contraception.
Taking some types of the pill can make it hard to tell if perimenopause has started. The combined oral contraceptive pill (OCP) contains types of the two female hormones: oestrogen and progesterone.
It works by suppressing a woman's natural hormone cycle (to prevent ovulation) and delivers a steady dose of the two hormones.
Perimenopause symptoms such as heavy periods, breast tenderness occur due to the irregular fluctuation in hormone levels.
Later in perimenopause the body's reduction in estrogen production causes symptoms of hot flushes, mood issues, sleep and concentration issues, etc.
The combined oral contraceptive pill will mask the perimenopause symptoms, so it is difficult to know where a woman taking the combined oral contraceptive pill, is in her menopause timeline.
Some oral contraceptive pills contain progesterone hormone only (no oestrogen) and women taking this form of contraception may experience perimenopause symptoms.
Stopping the oral contraceptive pill will help declare any symptoms of perimenopause. Unfortunately, blood tests to check hormone levels, whilst taking the oral contraceptive pill are inaccurate.
The use of the combined oral contraceptive pill in women in their 40s and early 50s is associated with increased blood clotting risks and often this is a good time to reassess contraceptive options and need for treatment of perimenopause symptoms.
Other contraceptive options include condoms, intrauterine contraceptive devices (IUCDs) which may or may not contain progesterone type hormone.
Many women prefer the IUCD containing progesterone hormone as it helps to minimise heavy and irregular bleeding problems that tend to occur around this time.
It's also easy to combine this with oestrogen hormone replacement therapy (HRT) for treatment of other perimenopause symptoms such as mood problems, hot flushes, sleep and concentration difficulties.
Progesterone only based contraceptive options do not carry an increased risk of blood clotting. These may include progesterone only contraceptive pills or a progesterone implant (rod) in the arm.
Dr Yasmin Tan is a Sydney gynaecologist, laparoscopic surgeon and women's ultrasound specialist. She works at the Women's Health and Research Institute of Australia (WHRIA).

Feature Image: Canva / Mamamia 
Unlock unlimited access to the best content for women