We're calling it. Meghan Markle's relationship is the best thing that could've happened to Suits.
Yes, better than Mike and Harvey's banter and the never ending pencil skirt inspiration. It's even better than, deep breath, Donna.
Why? Because it needs to end. Suits needs to end, and we didn't know how to say goodbye until now.
When the world found out Markle's character, Rachel Zane would leave the long-running show at the end of Season 7, boy did it hurt.
"But… but what will happen to Mike and Rachel?," we cried.
"Will they live happily ever after? And who will be our work fashion spirit animal now? She only just passed the bloody bar FOR CRYING OUT LOUD."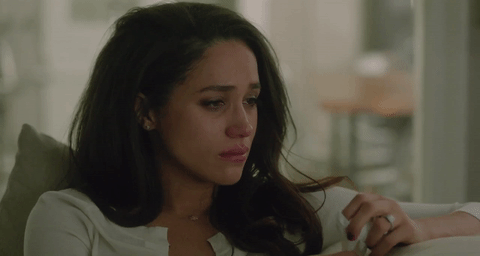 But guys, really we should be grateful to Prince Harry and the monarchy's completely outdated rules and regulations that forbid Markle from working now she's a sort of Princess. Because they and their sexist traditions gave us the out we so desperately wanted, ripping off the band aid we were too weak to do ourselves.
It's like when you're in a dead end relationship. You have so much love for that person, but it's not working anymore. Where once there was fire and passion, now sits a pile of wet face washers.