When culottes first hit stores a couple of seasons ago, I immediately turned my nose up.
They looked ugly, hard-to-wear and from all accounts were wholly unflattering on just about everyone. In my humble opinion, they could go back to the nineties/early noughties where they belonged.
Now, I'm their number one fan.
It wasn't exactly planned. During my annual sh*t-the-weather-is-warm-and-I-have-nothing-to-wear panicked shopping trip, I picked up a pair of $40 navy and white striped high waisted pants in Zara. They looked smart, light and most of all comfy. Too lazy to try them on, I decided to take a chance and just buy them.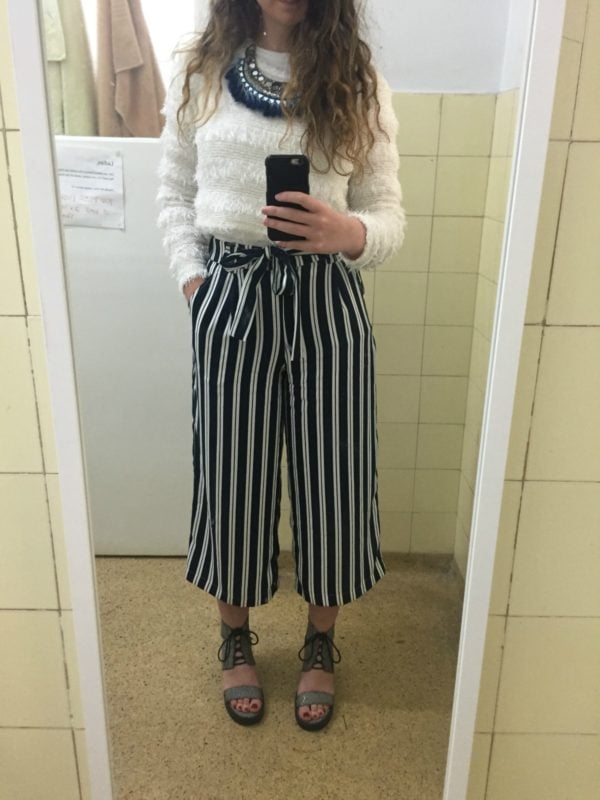 New pants obviously call for a selfie. Image: Supplied/Brittany Stewart
It was only when I got home I noticed the slightly wide cropped bottoms. They weren't pants, they were culottes - but to my surprise they weren't so bad.
Yes, turns out the style bloggers' pant of choice is actually practical AND wearable in real life.
It's been almost a year since I've converted and my wardrobe has never been stronger. I LOVE them.
Cutting off a couple of inches above the ankle, they're the midi-skirt of pants - except you can do cartwheels in them. The high-waisted top helps add shape and they're a great way of showing leg on warmer days without baring it all and they're surprisingly versatile.