Shortly after Madeline Anello-Kitzmiller was assaulted at a New Zealand music festival over New Year's, a video of her reaction went viral.
The footage shows the 20-year-old's attacker and fellow Rhythm and Vines festival-goer, running up and groping her breasts. It also shows Madeline and her friend Kiri-Ann Hatfield turning around to confront the man, yelling and hitting him.
In the days that followed, while some chose to debate her outfit, many of us had another thought on our minds: what would we do in that situation?
Listen: Should we encourage our daughters to retaliate with violence if they're groped? Post continues after audio.

It might not be something you'd ever considered, but each year there are reports of assaults at festivals, including at least three at this year's Falls Festival in Tasmania. Add to this the fact that one in three women will experience sexual or physical violence in their lifetime, and it's worth knowing what to do.
With this in mind, Mamamia spoke to Senior Sergeant Brett Meadows of Victoria Police's Sexual Offences and Child Abuse Team. He told us that while there was no "best" way to respond to a groping attack of this kind, whether at a festival or another public space, there were some things he advised doing to stay safe and hopefully see the person involved charged.
Prioritise your own safety
Snr Sgt Meadows emphasises your own safety is the number one thing to prioritise in this scenario and encouraged anyone assaulted to ensure they are in a safe position before the consider taking action against the person responsible.
"The first advice is to move away… make some space. If you are in a crowd, call out, you want people around to know something inappropriate has taken place," he says, adding this could be 'that bastard just grabbed me'.
"That should stop the behaviour."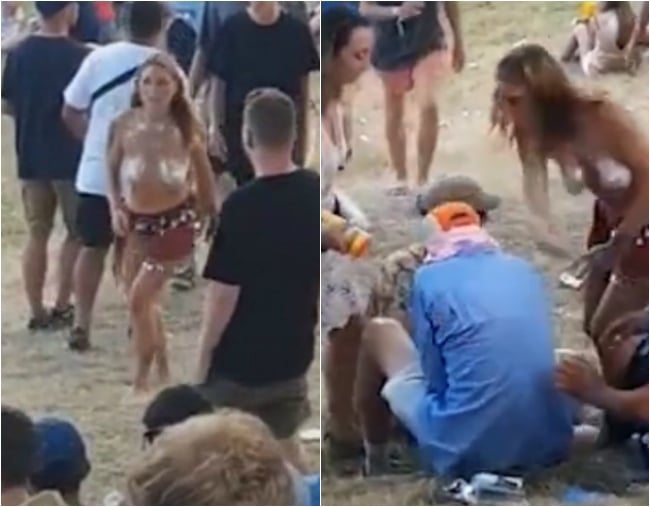 Snr Sgt Meadows says it's important to know there is no right or wrong response to being sexually assaulted and everybody will react differently, sometimes in the opposite way to what they might expect. Some people might freeze in a panic for instance, which is why he advises calling out if you can so that the assault hopefully doesn't continue.
How to report the assault
Once away from the attacker, if you do feel safe enough to keep them in eye-shot or take a photo it can be helpful when reporting to security, Snr Sgt Meadows says, reiterating that's it's perfectly fine if you can't.
Rather than encouraging people to take the matter into their own hands - and risk their own safety - Snr Sgt Meadows recommends they report the assault to a security staff member as soon as possible. You can do this before contacting police yourself as it's a quicker route to getting police at the venue involved, he says.
"If you're comfortable or if your friends are comfortable, keep the person in sight and approach the security or a police officer working there and point the person out and say 'that man [assaulted me]'."
"The security, as much as they're not police officers will have the ability to confront someone and establish their identity. And they can then let them go and when the police get involved they can then take statements and we'll talk to security who'll say 'this man was pointed out to me, I got his address'... and we [police] can go and pick the person up."
Snr Sgt Meadows says while security will follow the report up, it's best to also call Triple Zero and report the assault. He recommends taking note of the security staff's ID number when speaking to them. Then after reporting the incident to them, you can call police and identify the person you spoke to.
And if you're not at a festival but another public space such as a train or park?
Snr Sgt Meadows says similar advice applies: ensure your safety, take note of the person's appearance if you can, and call Triple Zero to report the assault immediately.
"If you're telling the police officer on the other end of the phone, the man's just getting off the train, tram or bus or walking through a particular park, a police officer then radios through to police in the local area... and hopefully there's a police officer who's just around the corner who can pick the man up based on your description and we'll go from there.
"And if we do lose them when then we've still got descriptions, we'll look at CCTV footage and we'll get a statement."
Snr Sgt Meadows encouraged people to report a groping assault even if they're not particularly upset by it, as it could help protect other women and stop perpetrators from attacking others.
"If at a music festival only one person reported it, but there were multiple people assaulted by the same person, as an investigator I've only got a one-off incident. So if all those people reported it I've suddenly got a big case and we can deal with the person a lot more appropriately."
What happens next?
Snr Sgt Meadows says if police are able to catch the perpetrator they'll be charged with a relevant offence. In Victoria, that's sexual assault, while in other states the same offence may be known as indecent assault.
A NSW police spokesperson told Mamamia police "take very seriously and investigate all reports of sexual or indecent assaults, regardless whether the assault occurred in public or behind closed doors".
"We encourage anyone who may have been the victim of assault to report the matter to police. If someone is victim to such assault, contact 000 as soon as possible."
Ways to stay safe
It's never the victim's fault if they are assaulted, but there are things you can do to stay as safe as possible at festivals and public events. Carolyn Worth, a spokesperson for Victoria's peak body for sexual assault support, shares some common sense advice with Mamamia.
Worth advises people to stay in groups of at least two where possible and to make sure that your phone is fully charged and on you, so in the event you're alone and something happens or you feel uncomfortable, you can contact your friends right away. She also says it's a good idea to have someone looking out for the group.
"If you go with a group of friends, have someone who looks out for everybody, so that's their job for that particular day or a half-day," the Victorian Centres Against Sexual Assault forum spokesperson said.
If this post brings up any issues for you, please call 1800 RESPECT (1800 737 732) – the national sexual assault, domestic and family violence counselling service.
Have you ever had to report an assault? Was there something you found that was helpful? Tell us in the comments below.