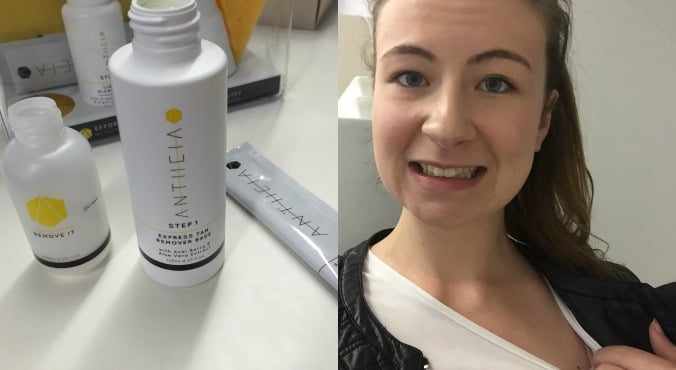 Image: Supplied
I've lost count of the number of times I've thought I've done a flawless job on my fake tan, only to wake up the next morning with uneven patches, blotchy splodges and the worst — giveaway stains in between my fingers.
Last week was one of those times. In the thrill of the long weekend, I got a little bit gradual tan-happy and haphazardly splashed it all over. It wasn't until someone else pointed out my striped legs the following day that I even realised what had happened. (Oops.)
Thankfully, there's now an emergency tan first-aid kit for people like me. Created by two Aussie geniuses, Brie Stevenson and Michelle Young, Antheia Express Fake Tan Remover Kit ($55) offers instant freedom from your fake tan faux pas.
The kit comes in a handy waterproof travel bag and contains a bottle of the Express Tan Remover Base, three powder sachets, a spray bottle, a bottle of the Liquid Micro Peel and a muslin cloth and buffer sponge – enough for several uses, depending on how big a mess you've made.
Watch: tricks for a glowing complexion. (Post continues after video.)
While there appears to be a fair few products, the actual process couldn't be easier.
Step 1: Remove.
To remove the fake tan, mix the express tan remover base with one sachet in the spray bottle. Give it a good shake, then carefully spray the combo onto the area of your fake tan you want to remove. Leave for two to four minutes, then wipe away with the muslin cloth.