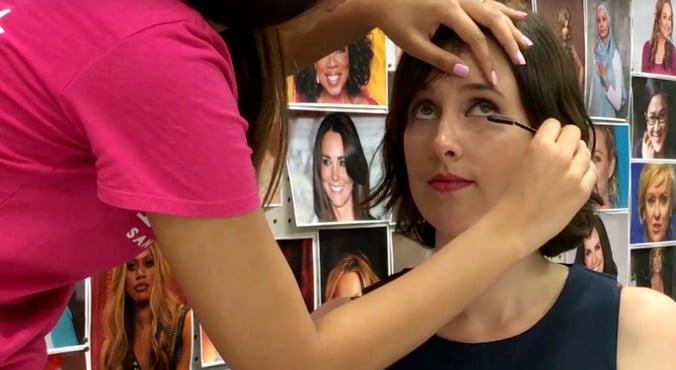 Image: Supplied.
Pandas are adorable — but that doesn't necessarily mean you want to look like one after three hours of vigorous Saturday night dance floor action.
Unfortunately, this tends to be a common occurrence during the balmy party season. Even the most meticulously applied smokey eye or winged liner can descend into smudgy, half-melted chaos come midnight.
Recently, we asked the team from Benefit Cosmetics to show us how to create a party-friendly eye look that won't verge into 'hot mess' territory. Here's the result: (Post continues after video.)
How it's done
Step 1. Prep the area with eye cream — this will hydrate the eyes and help your concealer sit better.
Step 2. Add an eyelid primer to brighten the eyes, prevent creasing and hold your shadow in place.
Step 3. Eyeshadow time. We used a deep plum colour that will open up the eyes and make them pop; we then blended this out with a matte bronze shade to create depth and make the eyes look bigger. You can also apply this shadow along the lower lash line.
Step 4. Apply winged eyeliner — if you need help with this (admittedly tricky) part, try these eyeliner tricks. Tip: A bit of makeup remover on a cotton tip can help you neaten and sharpen up the winged tips.
Step 5. Apply concealer in a triangle under and up past the corner of the eye to brighten the area underneath the eyes and sharpen the wings. The Benefit team then used Agent Zero Shine to stop the concealer creasing and create a "blurred" effect.
Step 6. Crack out the mascara and do your thing. Apply liberally to top lashes and a little to the bottom to really open up the eyes.
Step 7. Set brows with brow powder, wax and/or gel. We used a combination of all three. Then, apply some illuminator beneath the brow to create some extra lift.
What we used
Here are the Benefit products used to create this look:
The Benefit party eye toolkit
What's your favourite eye makeup look for party season?