Chantelle Baker is Melbourne's makeup artist to the stars, with Rebecca Judd and Jesinta Franklin among her most frequent clients. She has 38,000 followers on Instagram, and a quick peek at her feed will tell you she certainly knows her way around a makeup bag or two.
Here, for Mamamia, she gives her top tips and tricks on how to seamlessly hide those under-eye bags creeping up on you.
It starts before the makeup
Baker says combatting under-eye bags starts well before the makeup. In fact, it starts by addressing the puffiness that often hits our eyes when we have just woken, or are feeling a little run down.
"Combat puffiness under the eye with something cooling. A quick trick at home is to run a teaspoon under cold water and rest the rounded side under your eyes for a minute. This will ease puffiness in the morning," she says.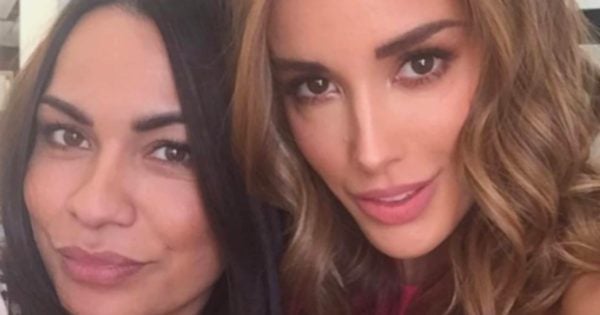 Invest in a good eye cream, too
Ah yes, concealer isn't the only product you can use to help your eyes out.
"Hydrate and tighten under the eyes using an eye cream! Eye creams are so underrated, if you don't own one... INVEST," she says, arguing they "don't need to be super fancy and expensive".
She recommends:
Charlotte Tilbury Magic Eye cream
Dermalogica Intensive Eye Repair
Dermalogica Age Reversal Eye Complex
"When applying eye cream, make sure you swipe from the outside of the eye inwards - stretching the eye from the inner corner out will stretch the skin out in all the wrong places. Also, be gentle, the skin around our eyes are 70 per cent thinner than the rest of our skin on our face."
Concealer, concealer, concealer
"Concealer to brighten under the eyes is essential," the makeup artists says.
"I have been obsessing over the softness of Laura Mercier's candle glow concealer. It highlights under the eye perfectly and the finish is seamless without being heavy and cakey."
Baker says she is also a "huge fan" M.A.C Cosmetics conceal and correct palette in Medium, because it "brightens and highlights all in one".
"Use the orange base to correct dark tones under the eyes and a yellow base on top to brighten and then mix together for the perfect match."
Zoe Foster-Blake's beauty advice for busy women.
Too easy, right?
What are your go-to tips for fixing under-eye bags?