Blackheads are the (skin) bane of many people's existence and, naturally, there are hundreds of lotions and potions claiming to get rid of them. But what really works?
A woman's skincare routine has gone viral after she claimed she managed to almost entirely get rid of her blackheads in just four weeks.
The 22-year-old, who goes by the name of 'Yoofka' on Reddit, shared a before and after picture of the results on the website.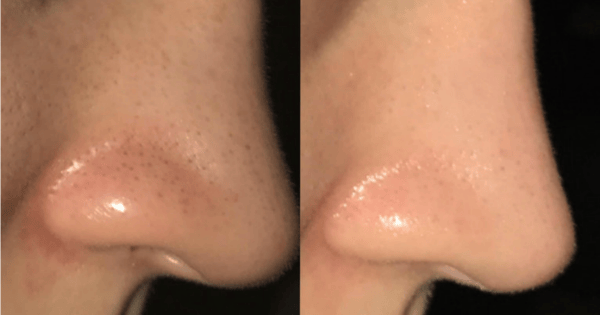 "The difference a month makes," she captioned the picture.
Her routine includes removing her makeup with Lancôme Energie De Vie cleansing oil (not yet available in Aus), exfoliating with NEOGEN Dermalogy Bio-Peel Gauze, $36, and then cleansing with Kiehl's Ultra Facial Cleanser for all skin types, $30.
She then applies Differin (an acne treatment) to a clean and dry her face, moisturises with Aquafor Healing Ointment, $7.23, and THEN tones with Akaran Moisture Lotion. Occasionally she says she'll do sheet masks from The Face Shop.
Phew. Okay that's all.
"My skin has never been more supple or texture-less in my 22 years! HG [Holy Grail] routine for me, for sure," she wrote.
Growing up in East Asia, she wrote that she'd always been taught to moisturise BEFORE toning.
"My mother's side is Korean and I grew up in East Asia; I've just been taught from 13 years old to always moisturise first to lock in the moisture and then tone afterwards because toner is never as moisturising," she wrote.
"It's worked for me; I went through a phase where I toned before (like everybody else lol) but I've always noticed that my skin was brighter and softer and more supple if I toned last, like my mom and grandma always taught me."