As much as women like to play it cool and pretend period stains are a thing distant memory of our teenage past, the reality is that they still happen to us fully-grown adult women, all of the bloody time. Pardon the pun.
And sure, it's a little bit embarrassing, and maybe our lives would be substantially better if we never suffered spills, but we do. Oh God, we do. Okay?
Great.
Now that you've accepted this undeniable truth, we can move onto the important stuff, which is dealing with stains said spills leave behind.
Rule #1: cold water is your friend.
When trying to remove almost any stain, period blood included, it's essential that you use cold water. The reason being, hot water locks in a stain, whereas cold water acts as your less-judgmental friend that's there for you when you need it and won't use this horrible moment of you at your lowest point against you at a later date.
If you can tend to your stain fairly quickly, particularly before the blood dries, cold water may be all you need.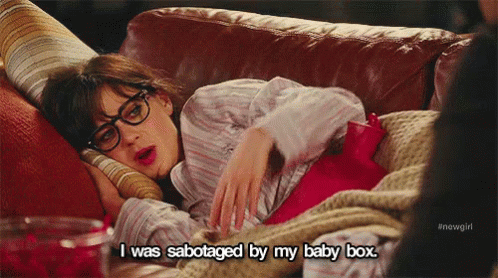 Rule #2: standard stain remover products have got your back.
Sometimes it's just not possible to pull your pants off and run them under cold water. You might be at work. Or in a meeting. Or asleep, damn it. But don't worry about it, even a set stain can be removed with some simple stain remover products. If it's a particularly bad stain, mix two parts stain remover powder to one part water to create a paste and spread across the stain. Leave for a couple of hours before putting into the washing machine (make sure the load is set to use cold water).
Your pants should be stain free and ready for rotation again by the following day.