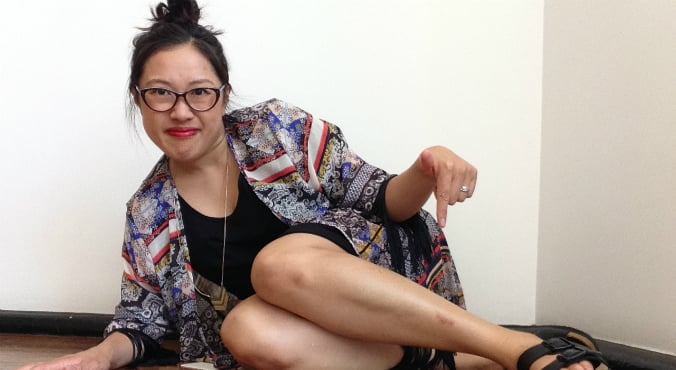 Watch these weird marks disappear in my leg makeup tutorial. (Source: Supplied.)
Have you ever noticed how "relatable" female characters on TV and in movies will often be very klutzy? Take Carrie Bradshaw in Sex and the City, for example. That girl tripped over a lot.
Well, have you watched scenes like this and thought, "Wow. No way could someone be that clumsy in real life."
Uh...guilty as charged. Almost every day, I'll hurt myself in some way from sheer clumsiness, and it wreaks absolute havoc on my legs. They're constantly covered in bruises and scratches. Luckily, there's a solution to this common problem: body makeup. It's quick and easy to apply (unlike self-tanner), and creates the illusion of flawless legs.
And even if you already have naturally flawless legs, this tutorial may be handy if you need heavy-duty coverage for a special occasion - such as hiding acne.
Why use leg makeup?
Now, is leg and body makeup something you should wear everyday? No. Most of the time, I'll happily display the weird bruises, insect bites and scratches on my legs. But occasionally, a special event will come up, and I feel like my leg blemishes could become distracting.
The one time I really dedicated myself to wearing leg makeup was when I was a bridesmaid in my sister's wedding, where I wore a short dress. During the ceremony, I wanted people to be looking at my beautiful sister... and not thinking, "What's wrong with Carla's legs?!".
Call me paranoid, but it's happened before. Behold: a photo that I uploaded to Instagram three years ago, of me happily drinking a cocktail on a Sri Lankan beach. Immediately after posting it, a concerned family member commented: "What happened to your knees?! Are you OK?" Uh, nothing happened. LIFE happened!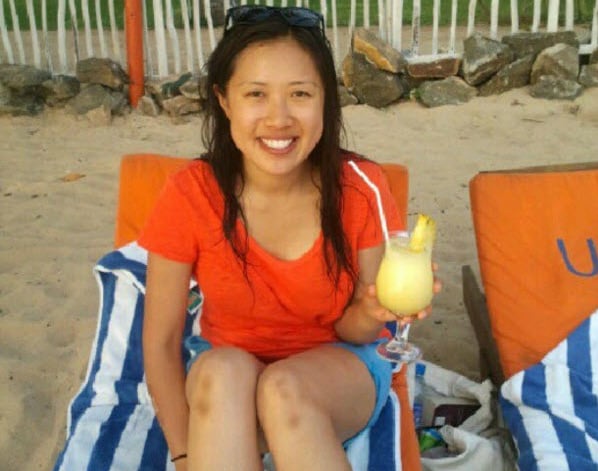 Products.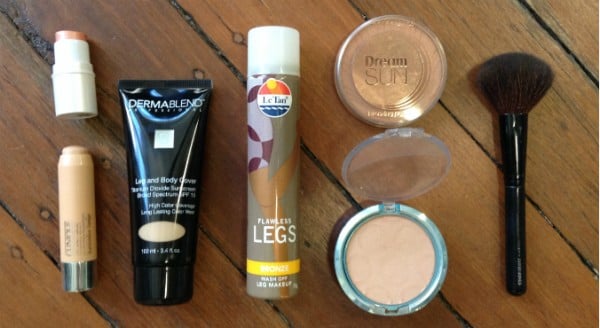 In this tutorial, I use the following products (from left to right):
Highlighters: e.l.f. Essentials All-Over Color Stick in Golden Peach, $3 (top) and Clinique Chubby Stick Sculpting Highlight in Super Starlight, $42 (bottom).
Body makeup: Dermablend Professional Leg and Body Cover in Suntan, $47.95.
Leg makeup: LeTan Flawless Legs in Bronze, $19.99.
Powders: Maybelline Dream Sun Bronzing Powder in Bronze, $11.16 (top) and Physicians Formula Talc-Free Mineral Oh So Radiant! Powder in Creamy Natural, $29.95 (bottom).
Brush: David Jones Beauty Blusher Brush, $19.95.
Flawless legs tutorial.
Step 1: Conceal blemishes.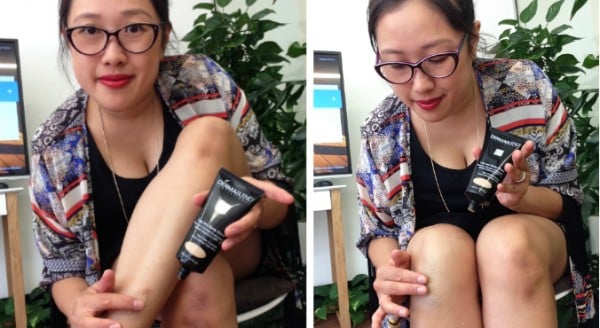 Dermablend Professional make heavy-duty concealing makeup products, which can be a godsend for anyone who feels that regular concealer just won't cut it. This is the range that professional makeup artists use to conceal actors' tattoos on movie and TV sets. It can also be used to conceal stretch marks, varicose and spider veins, bruises, birthmarks and scars.
Using my fingers, I blended Dermablend Professional Leg and Body Cover over any blemishes on my legs, which included a new "ouchie" on my shin (from walking into a coffee table), an insect bite, a bizarre white pigmentation spot and unexplained bruises on my knees.
Dermablend recommend using a powder to "set" the concealer, so I used a Physicians Formula powder compact over the top. (Post continues after gallery.)
The Glow Team's Favourite Concealers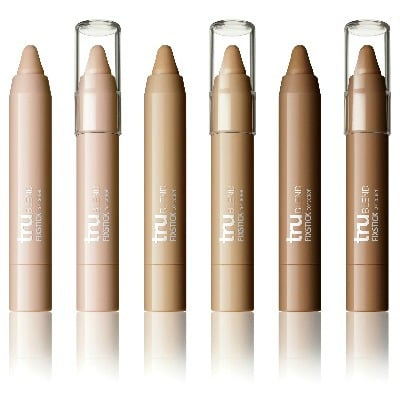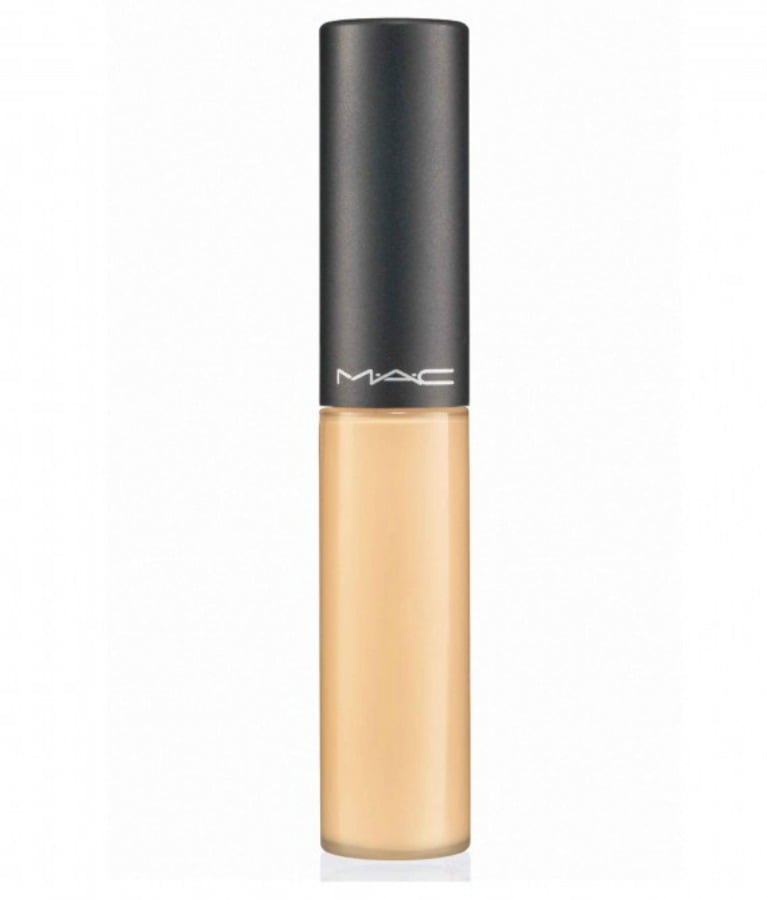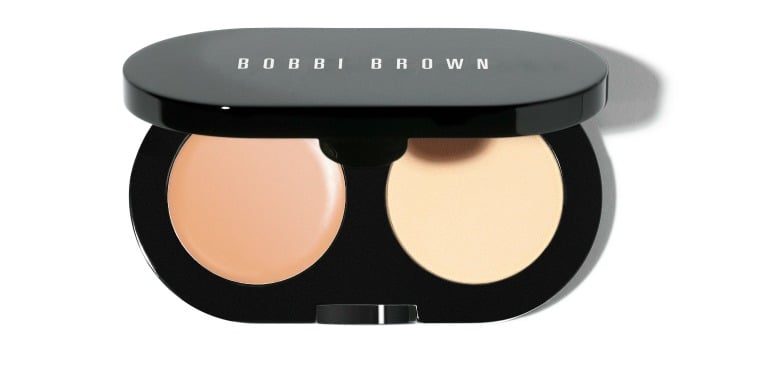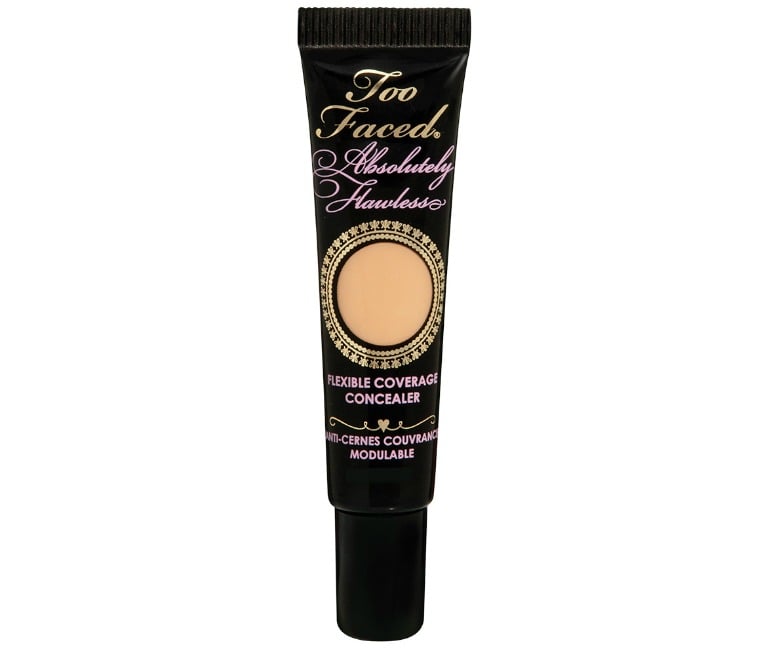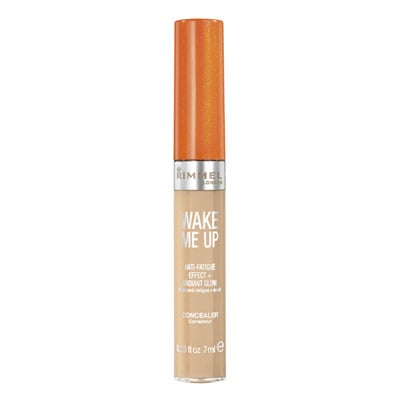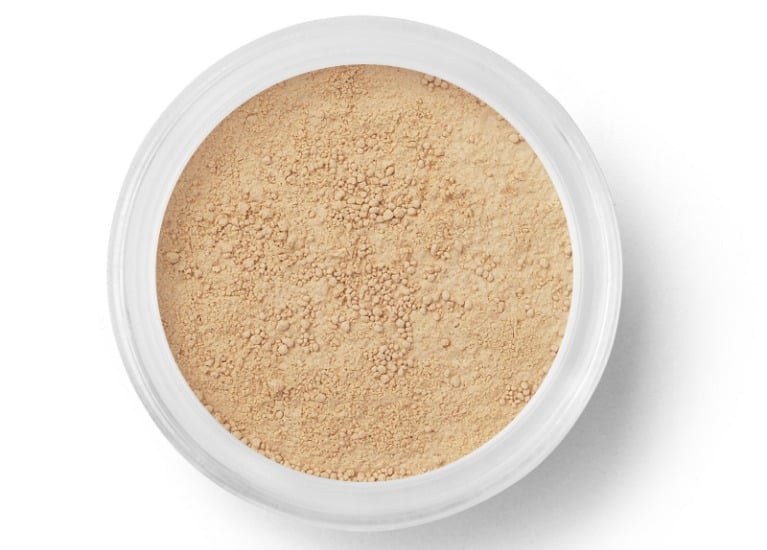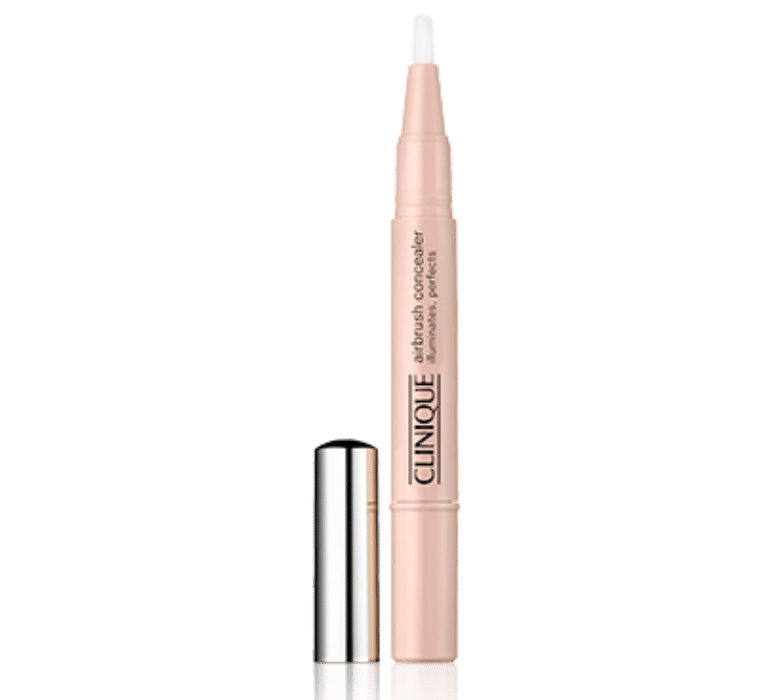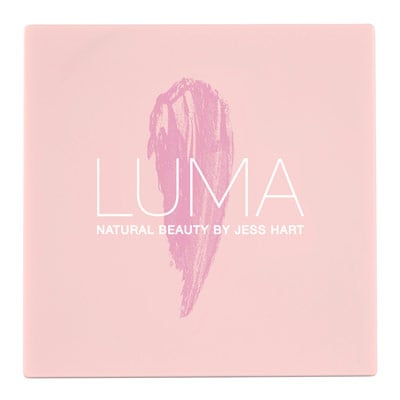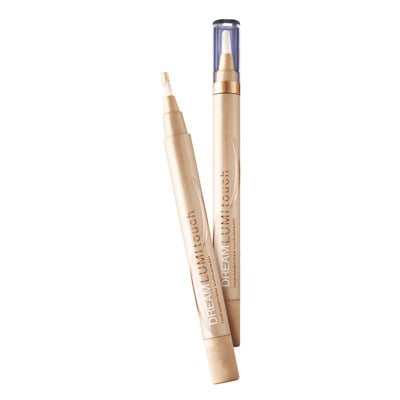 Step 2: Apply leg makeup.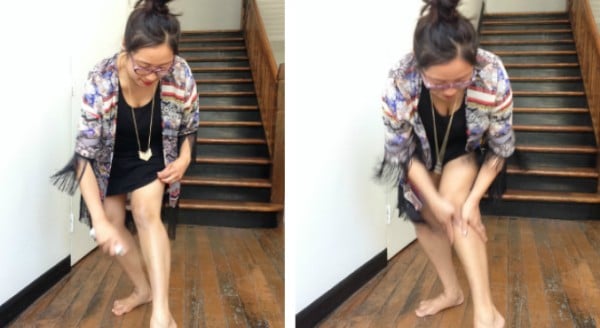 This is where the magic happens. Aerosol leg makeup products, such has LeTan Flawless Legs and Sally Hansen Airbrush Legs, $26.99, are like the lovechild of airbrush foundation and a spray-tan. It's spray-on makeup that coats your legs with a fine layer of colour and coverage, disguising flaws and creating the illusion of smooth, non-klutzy legs.
These products not only dry instantly, they also won't rub or wash off until you need them to. Trust me: I used LeTan Flawless Legs on my sister's wedding day, and even though it rained and I walked around on splashy wet grass, the makeup stayed put.
To apply the leg makeup, find a well-ventilated space (especially so that your colleagues won't hate you - sorry, guys) and spray all over one leg (don't forget your feet!) and rub the product in quickly. It may look dark and blotchy at first but don't worry because it dries down to a smooth, even finish later on. Repeat on your other leg - unless you're into asymmetry.
Step 3. Bronze and highlight.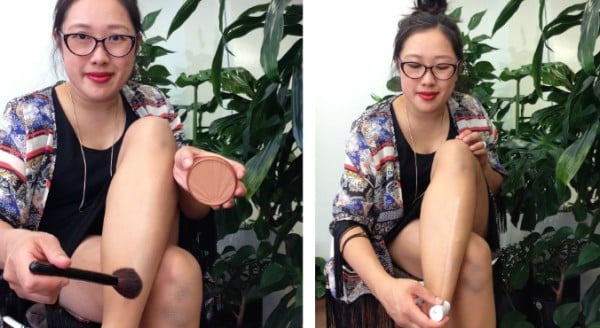 To even out the colour of my legs - especially on the spots where I put the Dermablend - I like to use a bronzer, applied with a blush brush. And then, to add some distracting dimension to your legs (what, insect bites here? Never!), try running a highlighting stick over your shins and ankles and then blending it in.
This also adds a goddess-like gleam. I doubled up on my highlighters, using the e.l.f. Essentials All-Over Colour Stick in Golden Peach for golden tones, and then Clinique Chubby Stick Sculpting Highlight in Super Starlight for an even brighter shimmer. Illuminating the high points of your legs can create a flattering, slimming effect.
The results.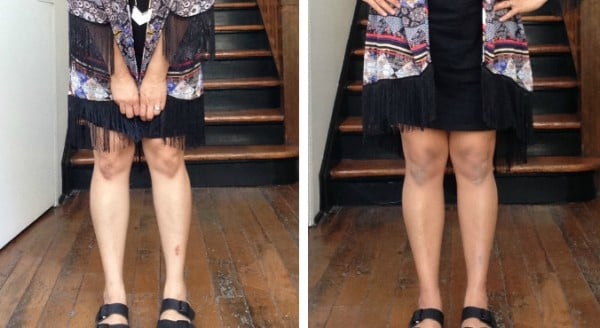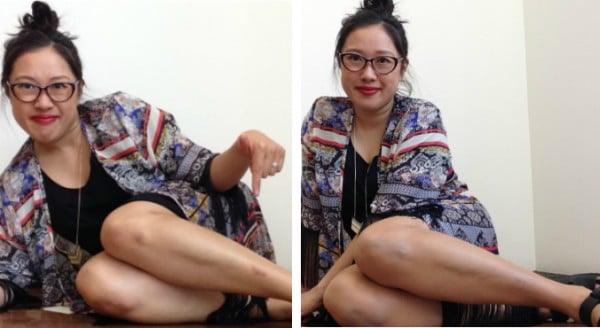 Ta-da! Who would have known that the woman above spends her spare time walking into furniture and banging her knees? Instead, we have a woman with flawless legs, who would not receive enquiries via Instagram as to her leg health. Leg makeup! It works wonders.
Have you tried body makeup? What are you best tips and recommendations?