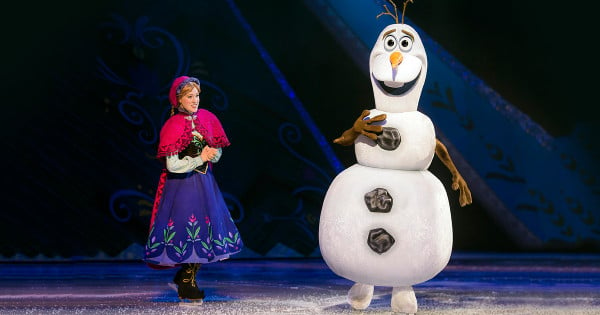 "Do you wanna…"
If you immediately finish this sentence in your head with "…build a snowmaaaan?", then you've seen Frozen a few times. Or a few hundred. Or a few thousand. And it doesn't stop there. You see a carrot and think of a snowman. You see a girl with braided hair and wonder if she's an ice queen, too. Your idea of romance is not saying "I love you". It's saying, "Some people are worth melting for…".
It's not a bad thing. It's just part of your life now. Make the kids' lunches, empty the dishwasher, hum 'Do You Wanna Build A Snowman?', check your email. Frozen isn't just a movie anymore. It's life. If this sounds familiar to you, then we have the solution. The ultimate, most frosty fantastic Frozen experience you could possibly imagine.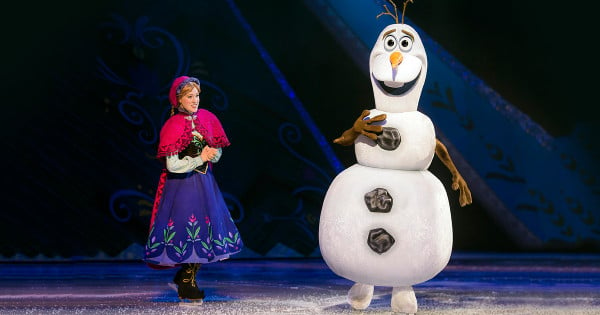 Anna and Olaf on ice. Image: Supplied ©Disney. All Rights Reserved. 
You know when you've got a song stuck in your head for ages, and then when you finally hear the song come on the radio, it fills you with a sense of relief? Because now you're listening to it, you can stop humming it over and over. Now imagine that song is 'Let It Go.' And imagine you are watching it live, with hundreds of excited little kids around, as Elsa twirls across an ice arena on skates, leaping through the air and singing the world's catchiest song.
For the first time ever, Disney On Ice is bringing the Magical Ice Festival to Australia. Audiences will see the best moments of Frozen played out as Anna, Elsa and Olaf do triple flying axel flips on one skate (okay, I don't even know if that's a move. But it will be amazing. Trust me). There will be singing. And dancing. And lots and lots of ice.