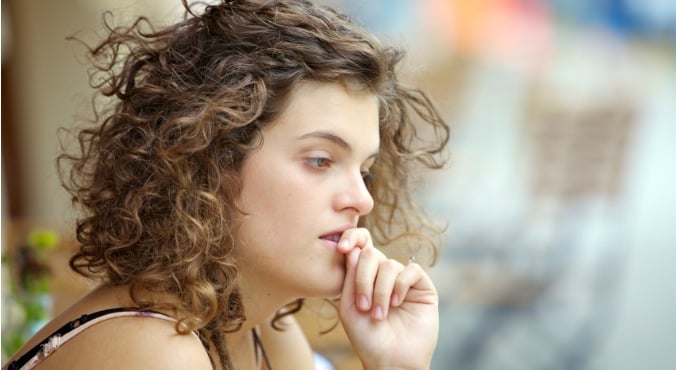 Image via iStock.
Experiments dating back to the 1960s show people have less of a reaction to viewing an unpleasant image or experiencing an electric shock when they know it's coming than when they're not expecting it. That's because uncertainty, a long-known cause of anxiety, makes it difficult to prepare for events or to control them.
People vary in their desire to minimise uncertainty. Those who react by worrying focus on potential threats and risks such as "what if I don't get the promotion?" or "what if I get sick?". Worry can be useful when it leads to adaptive behaviours that reduce threat, but chronic worry may cause harmful levels of stress that can affect heart health and the functioning of the immune system, among other things.
RELATED: 6 signs you're stressed (and what you can do about it)
Our bodies may display subtle reactions to uncertainty, which we may not notice. One experiment showed people who dislike uncertainty had increased blood pressure when anticipating threat. When our bodily reaction is a strong one, we tend to recognise and label it as anxiety, but when it's more subtle, we often fail to see it despite its effect.
These internal reactions to uncertainty are normal, but they can lead us to act in impulsive ways that undermine our self-confidence, so it's important to become aware of them.
It's not all bad
Dislike of uncertainty is associated with a number of mental health issues, including eating disorders, social anxiety, anxiety disorders and depression. And people who say they dislike it immensely report more of these disorders occurring at the same time. (post continues after gallery)
Celebrities who have suffered from anxiety
But not everything about uncertainty is bad news; while it can make negative events worse, uncertainty also makes positive events more exciting.
In an experiment about the contribution of uncertainty to romantic attraction, a group of female university students were told that attractive males had seen their profile and may or may not have liked them. Meanwhile, a second group was told the attractive males had definitely liked them. The women who were not certain about whether they were liked were more attracted to the men than those certain about being liked.
RELATED: A power nap during the day could help to improve your wellbeing