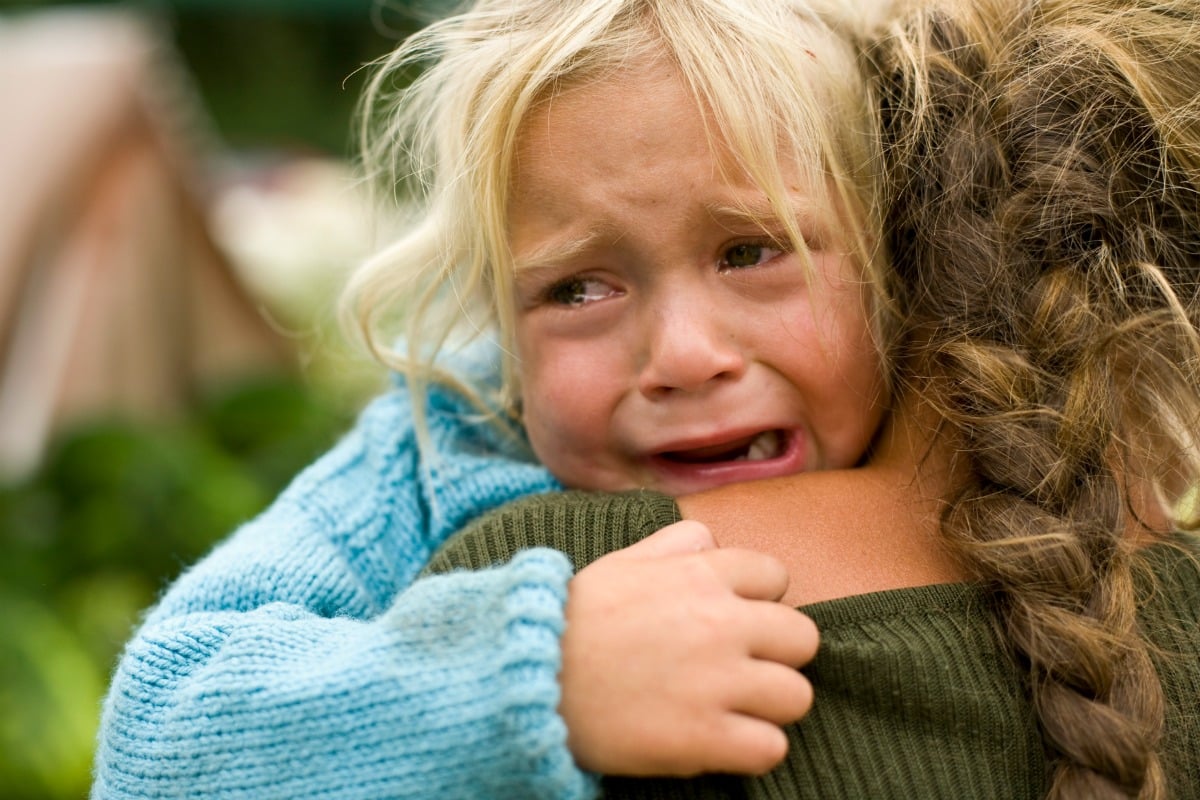 Connecting to your child requires constant work. Not all of that work is visible to other people. But it's the invisible stuff, the deep down acceptance and tolerance of your maniac child that truly matters.
This is usually how the judgment from others goes. You're out, in public, doing wondrous public things with your beloved cherubs. You have an exchange with your partner, chatting merrily. You may even get to finish a sentence. But then there's a cry and you see your child in a puddle on the ground.
You go over and you parent your child the best way you know how. You kneel down beside her, this grubby tear-stained cherub whose chest is doing those big gulping breaths and you hold her as she processes the trauma of sharing the slide. And then some complete wanker goes 'Her kid won't share the slide and she's not even doing anything about it!'
Keyhole Judging – (you know if it has a name then it's clearly a thing). You see a snapshot of someone's life and draw wild conclusions, generally negative. For example, my child won't share the slide so I may as well buy her first switchblade now. She can get menacing boots for Christmas.
Keyhole Judging very much upsets me.
Hey bystanders! It is not that I'm doing nothing, it's that you are seeing nothing!
If you want to correctly label the exchange it goes like this, "So, she responded to her child with respect, and listened to her emotions and point of view and considered the context and any triggers that were around and she knew that she couldn't listen at that point in time so she stayed close to her and connected in a meaningful way that didn't send her into flight or fight. That b*tch!"
I am so tired of having 'peaceful parenting' referred to as 'doing nothing'. There is an insane amount of energy and effort expended in taking the road less travelled with your kid. The one that requires you to constantly label emotions and negotiate, and say things like 'it's OK to be sad' and 'I can hear how upset you are' as you are loving your child through their insistence that a broken cookie is the end of physics, geometry and the world as we know it.
My son has autism. This is not news. Sometimes it creates news because he's also bloody hilarious, but I digress. We have been shopping with him (an excursion which I am one hundred per cent positive has led to child puddled on floor scenarios for every parent ever).
We bought him an ice-cream. It was the wrong one. He wanted the orange one. He dropped to the ground like a goddamn stone, wrong ice-cream discarded and face crumpled like an accordion. He crawled into a corner of the shopping centre and curled up like a kitten. A sad, sweaty, wronged kitten. I sat down beside him.
People in shopping centres have opinions. They really do. A stranger saw the sad boy and the melting ice-cream and inquired as to what was going on.
"Wrong ice cream!" I replied with a shrug.
"And you're letting him get away with it? You're doing nothing?"
F*ck off I'm doing nothing, I'm managing my own emotions and modelling f*cking emotional development. I'm filtering the looks from other people and constructing a social story in my head.
I'm judging if it's the right time to put a hand on my son's back because it's sometimes comforting and sometimes not. I'm making sure I'm beside him instead of in front of him because that can be confronting. I'm giving rage face to anyone that looks like they might intervene and fuck it all up and I'm getting the occasional you bloody well rock glance from other people who know exactly how much work goes into doing nothing.