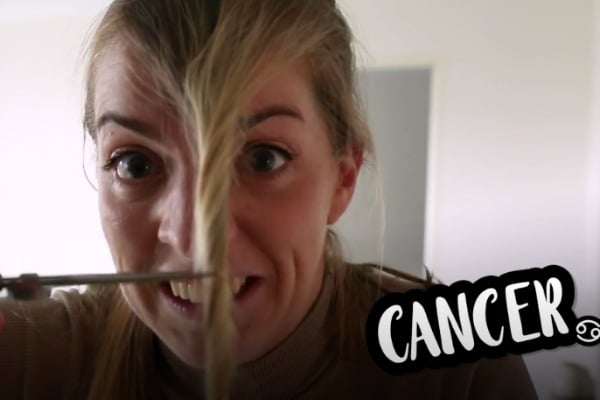 On the weekend, after finding out that both Rebel Sport and Kmart had sold out of weights, dumbbells and yoga mats, I filled a backpack with books and wore it like I was preparing for Kokoda.
I then proceeded with my daily workout.
Ahem. Yes. I am an Aquarius, and apparently this is textbook isolation behaviour for those of us born between January 21 and February 20. So, dear reader, I AM NOT SORRY OKAY.
WATCH: This is your isolation reality based on your star sign. Post continues after video.
My partner has heard me exclaim things on a daily basis like "but my legs feel restless" and "I JUST NEED TO GET MY HEART RATE UP" and how have we only been doing this for two weeks.
As a classic Virgo, he ain't taking none of my complaining. Which should be fun for us now that it looks like this is our new norm for idk, like six months (??).
But enough of me, let's move on to you. Because we at Mamamia, took the time to really study the intricacies of astrology to find out exactly how your star sign is informing your daily habits now that we're all self-isolating.
Here's the absolutely definitive guide to how you're coping with isolation, according to your star sign. (Okay, no it isn't. Let's just say it's a… guide).
Aries.
Your home is very… clean.
In fact, you just can't stop cleaning, and disinfecting, and policing your housemates about "if they really did wash their hands for twenty whole seconds because according to your timer, they did not" and that's okay.
At least your house is very clean and tidy.
Taurus. 
THE SUPERMARKET IS HARD PLS.
Look, we know.
You're angry that there's no toilet paper, because you refuse to consider the alternative.
You're angry that people keep walking towards you when they're supposed to be social distancing, but you refuse to move out of THEIR way.
You're angry that everyone else in this new reality is a goddamn idiot.
Gemini.
We know you're a machine and super productive and all, but stop showing the rest of us up.
BECAUSE HOW ARE YOU NOT GETTING DISTRACTED BY SNACKS/TIK TOK/SNACKS?
Cancer.
Did you… try out a new fringe, perhaps?
Dye your hair? Try to pierce your own ear?
YOU'RE THINKING ABOUT IT THOUGH, AREN'T YOU.
Leo.
Did you download TikTok?
Create a YouTube account?
Commit to improving your Instagram content now that you have so much time to perfect your craft?