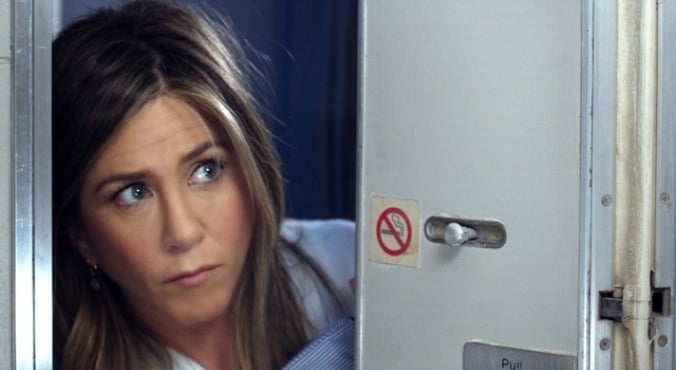 No, hiding in the toilet won't save you. Quite the opposite, actually. (Image: Etihad)
Whenever I travel overseas, I'll inevitably arrive at my destination with a souvenir: a Plane Cold.
You know the one — it sneaks into your system while you're enjoying vacuum-sealed dinners and trashy films up in the sky, and then ruins the first week of your holiday.
I'm not the only one who's been struck down by this particularly sinister travel bug; research has found plane passengers are at a 20 per cent increased risk of catching a cold. Great.
There's a certain misery to being all snotty and snuffly when you're trying to explore New York/Paris/Bangkok/wherever, so if you've got a flight coming up the following information will be very useful to you.
Why does this happen?
According to Dr Piraveen Pirakalathanan, Healthand's Principal Medical Officer, theories abound as to why planes are cold virus hot spots. He says researchers have examined a long list of possible reasons — food, water, alcohol consumption, even the kind of champagne served to passengers.
Studies of cabin air quality have found it to be "sufficiently clean", partly due to the continual re-circulation and filtration. However, the dryness of the air can shoulder some of the blame.
To distract you from the possibility of catching a cold, here's a meditation you can use on your next flight. (Post continues after video.)
"At normal flying altitude the air can be as dry as 10 per cent or more than being at normal ground level. Dry air is known to adversely affect the lining of our nose and throat and makes them more prone to infection," Dr Pirakalathanan explains.
Another issue is that despite their stringent hygiene standards, plane cabins are a potential incubator for bacteria and viruses, which can survive for several hours.
"The toilet is a common place to catch infections, but other surfaces can include tray tables, pillows, blankets and even the magazines you might read in back pocket of a seat," Dr Pirakalathanan says. Shudder.
On top of all that, long haul flights and high altitudes — not mention stopovers at weird times of the night and the fact it's bloody difficult to sleep on a plane — can really tire you out, which then makes your body more susceptible to catching a cold. It's a recipe for immune system disaster, basically. (Post continues after gallery.)
Memorable plane scenes from pop culture