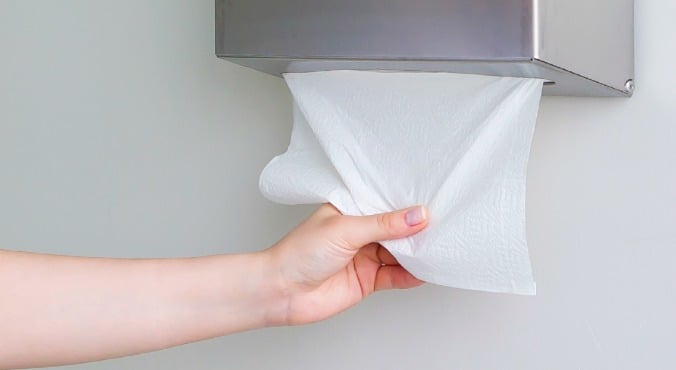 Image: iStock. 
Simon Lockrey, RMIT University.
It's the age-old question that continues to baffle many of us in the bathroom: when you come to drying your hands, should you reach for the paper towel, or the electric dryer?
For some, this decision might be related to hygiene, and for others, drying performance. For many, environmental concerns are also an important consideration, no doubt motivated by the fact that our daily activities contribute to the complex web of growing sustainability pressures facing the planet.
So how might we decide which of the two most common methods of drying our hands — paper towel or an electric dryer – is the most effective, and environmentally friendly, without resorting to the convenient wipe on the trousers? (Post continues after video.) 
Using this analysis, we can search out "hot spots" – those parts of the life cycle which have higher impacts – to identify the most important aspects for our analysis.
The heat on hand-dryers
So let's cut to the chase: what are the hot spots for the most common hand drying systems?
Life cycle research consistently shows that the environmental impacts of the electricity and towels used at the point when we dry our hands dwarf the impacts throughout the rest of the life cycle. These include the materials, manufacturing, and disposal of hand-dryers and towel dispensers.
This is because we use dryers and dispensers many times before they are replaced. But every time we dry our hands we consume resources, either paper or electricity.
The environmental impact of hand drying is therefore most significantly affected by how much and what type of paper towel we use, or how much energy is consumed by the electric hand dryer.
Paper v. air
Research comparing these two methods of drying concluded that both the conventional hand dryer and the paper towel performed roughly the same, environmentally speaking.
Each method, however, gained a small advantage over the other depending on changes to critical factors such as:
weight and number of paper towels used per dry (the average is two)
proportion of recycled paper
power rating and length of time for drying using an electric dryer
other regional electricity impacts
So in some contexts a paper towel is the slightly better option, and in others, the conventional electrical hand dryer. This depends largely on how the electricity is generated, and how the towels are produced and disposed of.
A new contender?
You might have noticed a proliferation of fancy new dryers in bathrooms in recent years. While conventional dryers use a combination of warmth and air flow to evaporate and blow water off your hands, these newer dryers use a non-heated rapid air stream to simply strip the water off. Do they make the grade?
Several recent studies independently peer reviewed by experts, such as this one, this one from Massachusetts Institute of Technology (MIT), and this one I conducted in 2011, have compared several high speed dryers to paper towels and conventional electrical hand dryers.