There's a theory the women of the Mamamia office have embraced in recent months:the idea that women are either poodles, or they are wolves.
Coined by comedian Jessi Klein, the premise is simple. Angelina Jolie, Keira Knightley and Charlize Theron? Poodles. Sandra Bullock, Jennifer Aniston and Tina Fey? Wolves.
We all have some poodles in our lives. They're effortlessly graceful, always wear matching bras and underwear, and are generally always late.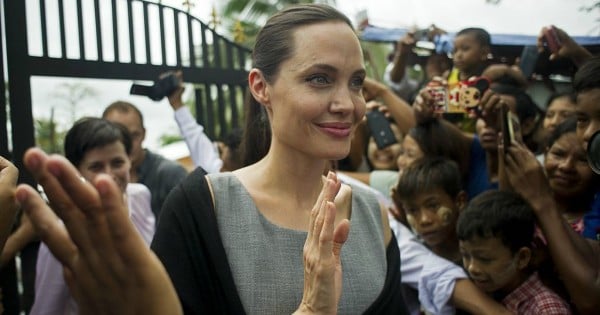 Angelina Jolie: verified poodle. Image via Getty. 
On the flip side of the poodle/wolf coin, last week I plucked a giant black hair from a mole on my cheek, I hate g-strings with a burning passion, and am always early (read: polite). This is certified wolf territory. I tick all the boxes.
But last week in the office, we uncovered a new frontier in the poodle versus wolf debate. A colleague raised a seemingly innocuous question to the team: how often do you wash your socks?
The poodles and even some of the wolves were quick to turn their noses up immediately. For them, the answer was simple: you wash your socks after every single use.
Some of us (me, it was me) thought there were more shades of grey in the great sock washing debate.
What if you were just chucking some socks on while sitting on the couch for an hour to warm your feet up?
Holly Wainwright, Mia Freedman and Jessie Stephens talked about the divisive subject on Mamamia Out Loud this week. Post continues below...
What if you put them on so you could whack your sneakers on and quickly take the bins out? Surely your feet had spent so few minutes within the socks that it warranted them a second use?