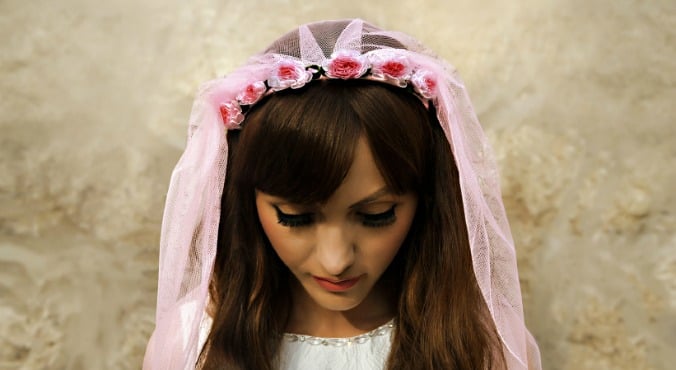 Image: iStock.
The average Australian wedding will set a pair of lovebirds back about $36,200. Of that, more than $2500 will be funnelled into things like accommodation, stationery, cars, and the really fun part: your bridal makeup.
Unless you do your own wedding makeup, you happen to have a friend or relative who's particularly adept with a brush, or you forgo makeup altogether, you're probably going to enlist the help of a professional to give that lovely face of yours a nuptial glow.
RELATED: Friends and shop assistants judged me for my wedding day decision. But I did it anyway. And I don't regret it."
And, unless you're a recent lottery winner or are marrying into the Packer empire, you've probably got a budget in the works to ensure your big day doesn't totally annihilate your bank account.
Of course, a good makeup artist won't come cheap, but there are several factors that can determine the final cost of your wedding makeup — and you mightn't know about them. (Post continues after gallery.)
Beautiful wedding eye makeup ideas
"I wasn't aware that some makeup artists charge extra to travel to your destination – even if it's in [the same city]. One makeup artist wanted to charge an extra $200 to travel to Palm Beach in Sydney. You could probably get a taxi there for cheaper," a former bride in The Glow's office says.
RELATED: 14 makeup things every bride needs on her wedding day.
"I was surprised by how quickly it all added up. My makeup artist was almost $1000 including my bridesmaids — but I didn't factor in a hair trial, which cost an extra $100," another added.
These tales suggest that when it comes to wedding makeup, there can be a whole lot of surprises in store — and not all of them are going to please your bank account. I asked hair and makeup artist Rose Mossman, who owns Sydney-based mobile makeup service My Addiction Makeup, about some of the factors brides-to-be need to consider while on the hunt for their bridal beauty wizard.
Price factors
You've probably figured a makeup artist's industry experience and popularity has a big influence on their prices. However, Rose says there are a number of other factors brides-to-be need to know about:
Travel to the location: "As a mobile makeup artist we are constantly driving. The costs that come into effect are petrol, car maintenance and road tolls," Rose explains. Parking costs can also contribute.
Supply of stock: "We have to have a very wide range of brands and types of makeup to suit different types of skin, including skin colour. Also, makeup expires so it's extremely important your makeup artist is constantly updating their kit to ensure that none of their products are out of date or have expired," Rose explains.
RELATED: How to get glowing skin for your wedding day.
 Most makeup artists will also maintain a collection of skincare products to prep your skin before the makeup goes on, so there's another cost that can add up for them.
False lashes: "Most makeup artist will include the false lashes price in their pricing structure, but others will also charge extra for lashes," Rose explains. "This can be priced anywhere from $10-$20 per person on top."