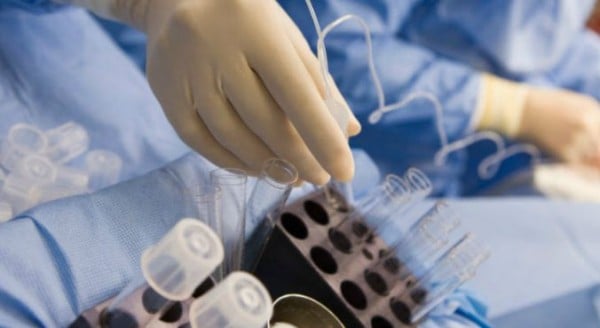 People often talk about how much it costs to raise a child — but for many couples, there's also some cost involved in falling pregnant.
Australian couples who are struggling to conceive have access to a number of fertility options, so if this is something you're currently exploring we've rounded up some of the costs you can expect to pay.
RELATED: 4 things you should do if you're worried about your fertility in your 20s.
Of course, it will differ from one place to the next, and is largely dependent on the specifics of the treatment, so these figures are a general guide for you.
1. IVF and ICSI
The total upfront cost of one cycle of in-vitro fertilisation (IVF) is generally between $8000 and $10,000; of this, the out-of-pocket cost will be upwards of $3000-4000. These prices will be slightly reduced for subsequent cycles; while a cycle of Intracytoplasmic Sperm Injection (ICSI) will cost slightly more than IVF.
In order to be eligible for a Medicare rebate, you will need a referral from your doctor or specialist obstetrician/gynaecologist that is valid for 12 months or three months respectively. It will cover things like blood tests, ultrasounds, and standard medications — although you may be prescribed medications that aren't covered.
RELATED: Sonia Kruger on her IVF experience.
Also, if you don't have private health insurance, you could end up paying $1000 to $2000 more for private hospital care and an anaesthetist.  Most hospital and day surgery fees — which could include egg collection and/or embryo transfer — are covered by private health insurance.
 2. Artificial insemination/IUI
Artificial insemination — where the semen of a male partner or donor is inserted into the uterus — is covered by Medicare.
According to IVF Australia, you can expect an out-of-pocket expense around the $1700 mark. Additional costs apply when accessing donor sperm.
 3. Egg freezing