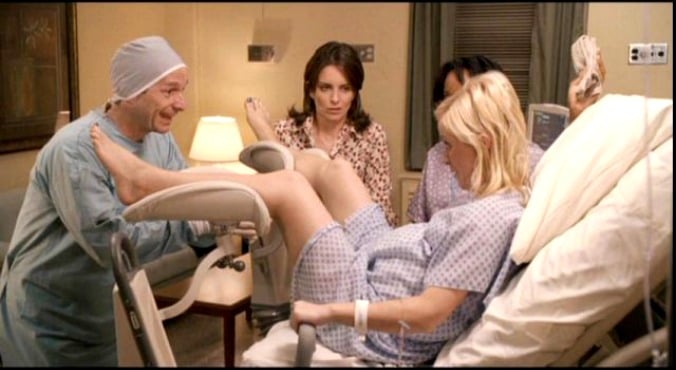 Image: Amy Poehler's pregnant character in Baby Mama.
It's the question that's crossed every woman's mind at some point in her life… at least before she becomes a mother:
After birth, does it all go back to how it was before?
Pregnancy and childbirth are serious business for your body. Carrying a child can affect everything from hormones to eating habits to foot size (really). So it's only natural that things might be a little different after your body has squeezed out a small human.
For anyone who hasn't given birth before, the mere thought of what happens down there post-delivery can be a little daunting. And it doesn't help when terms like "shredded vagina" are tossed around in conversations about birth (thanks for that one, Mila Kunis).
Watch: The truth about baby bladder. (Post continues after video.)
An inquisitive Redditer called Disney-Roo took one for the womanhood team and posted the above question online last night. And no, the answers to this post – and other Reddit threads on the same topic – aren't as 'horror film' as you-that-are-yet-to-go-there might think.
Here are 13 mothers' stories:
1. "Back to normal within a few weeks, and better than ever thanks to my dear friend Dr. Kegel." – Helen_A_Handbasket
2. "I had a horrible third-degree tear and it looks perfectly normal again. No scarring, no unevenness, no stretched-out feeling." – PancakesForTurtles
3. "Tears can be internal (mine were entirely internal, so no visible scars). Externally DH [Dear Husband] says that I look the same. Internally: "tighter and more textured". – mynamewaslola
4. "I haven't dared look but my S.O. says it's tighter than before. I had an episiotomy and stitches though. We've had sex alot recently and it's way better than pre-pregnancy." – notsostupidessexgirl
5. "My vagina is noticeably larger than it was before I had child #1. I only know this because I can comfortably use a larger menstrual cup than I did before I had kids. However, the change is not so drastic that my husband can notice during penetration. It feels just as good to him. And delivering vaginally made no visible change to my vulva, so things look just as nice as they did before." – redlagoon (Post continues after gallery.)
The on-screen orgasms that got us talking.