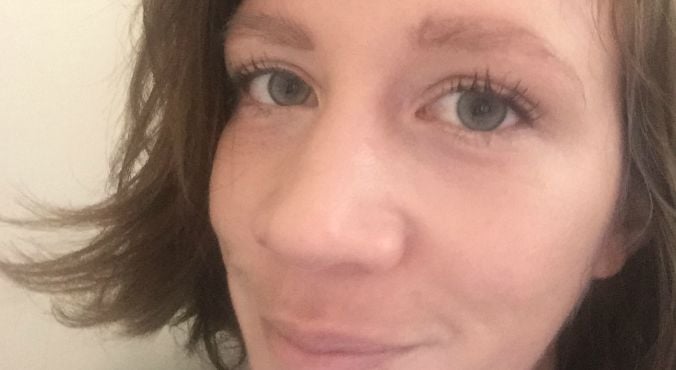 Image: Supplied. 
I am not ordinarily a "big eyelashes" kind of gal. I've never ever worn false lashes. Never had extensions. The thought of using anything other than my tubular mascara doesn't appeal me.
So I decided to try something a little different at Miss Fox in Melbourne; a lash lift. Now? I've decided I'm definitely a lash convert.
RELATED: 3 mascaras that can hold a curl in even the most stubbornly straight eyelashes.
A lash lift is an advancement on the old fashioned "lash perm". Unlike the perming rods used in the past, new specially created silicone pads lift the lashes from the root only, creating a subtle, natural looking lift, giving the illusion of length, and making the eyes appear more open.
My lashes before.
The process of getting a lash lift.
During my appointment at Miss Fox, my therapist chose the silicone pad she felt I needed and then used a perming solution to lift my lashes over it.
RELATED: Absolute genius. Curl your lashes without a curler.
It didn't hurt at all but some people will feel a slight tingling from the glue. The entire process takes about 30 minutes, and it was really relaxing. The treatment costs $110 and prices vary at different salons.
The results.
The curl of my lashes looks really natural and I've actually been getting loads of compliments. I would definitely recommend getting it done if you feel like extensions are too full on an option for you.
RELATED: How to choose the right mascara for your eyelashes.
Here's the lift without mascara...
Here's me with one light coat of mascara. See that curl?
Expect results to last six to eight weeks, after which your lashes will gently relax back to their natural state, and new lashes have grown. I will definitely be going back.
Related: 14 things experts wish you'd stop doing to your hair.
The best lengthening mascaras