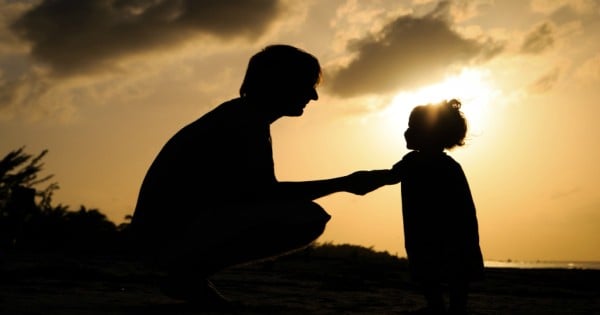 Her name was Claire and while I've never actually met her, I could tell you what she looked like from my dream. Same as I dreamed about my first before her birth. In my dream, Claire was about three or four. Her hair was light, but still darker than her older sister's. Her smile and laughter, however, was just as infectious.
We were at her grandparent's home and Claire and her older sister Hailey, ran giggling through the warm summer evening. They chased after blinking lights that appeared and disappeared like phantoms—hoping to catch a piece of lightening in their hands. Hailey was proud to be a big sister, I could tell. She yelled, "Claire, over here," as she ran by, directing her younger sister through a strangely coordinated dance along the hill next to the pond. Claire called me "daddy" in my dream and ran to her mother and grandma as soon as she caught the flashing bug. In my dream, I was happy.
This week as part of Never Forgotten: Mamamia's Pregnancy Loss Awareness Week we're remembering the babies we've lost. Post continues below.
I had this dream after my wife and I had gone to the seven-week checkup. It was there that I was able to see Claire's heartbeat and see her, the size of a peanut, inside her mother's womb. Seven weeks was the farthest we had come in several previous pregnancies and so I began to allow myself to think about our daughter. There is a guard that goes up for families after several lost pregnancies. To guard against any emotional connection, you don't think of names, you don't begin to plan, you barely do so much as even acknowledge there is a life forming—it's life as usual until you get to a certain point that feels safe. You certainly don't dream about them before that time. So this time felt safe.