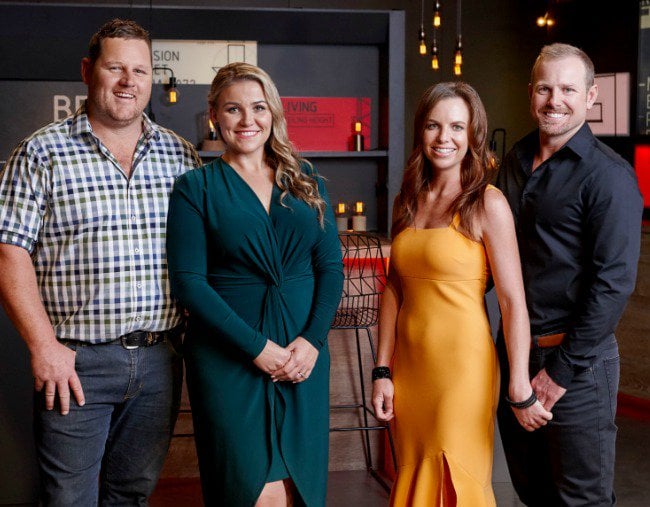 Things are about to get a lil' bit intense on the telly.
Tonight, during the grand finale of House Rules, New South Wales' Toad and Mandy and Queensland's Mel and Dave will go head-to-head.
And it could get… heated.
You see, Toad and Mandy have accused of Mel and Dave of bending the rules.
"There are House Rules and Mel and Dave's rules," Toad told New Idea.
"They would bend the rules to try and make it suit themselves, they didn't play fair at times. They thought more about themselves than the homeowner," he added.
"Mandy and I played fair, we tried to think about the homeowner, and we got the better results."
This isn't the first time Toad and Mandy have accused Mel and Dave of being a little bit sneaky.
During the semi-final, while the couples were renovating the home of a young widow named Chelsea, Mandy accused Mel of stealing her design.
According to Mandy, Mel stuck a note on Chelsea's original vanity, claiming it as hers, but then ditched the original vanity and chose one that was quite similar to Mandy's.
During the show, Mandy approached Dave to ask why the couple had copied her design and they got into a heated argument.
"The little note on the vanity was quite shocking," Mandy later told TV WEEK. "I think that was just very pushy and greedy."
Mel and Dave also did a lil' bit of feudin' with eliminated couple, Chiara and David.
According to Now To Love, the couples spent the whole week fighting while they were renovating Leigh and Kristie's home.
It all started when Dave altered the dividing wall between their zones without informing the other couple. While he told David he just "forgot" to mention it, he later confessed to the camera that he deliberately didn't tell them.
Then Mel and Dave decided to put up a curtain between the ensuite and bathroom, ruining the open plan look the couples had agreed on.
With the winner set to take away a $350,000 prize, it's no surprise that tensions are high between the contestants.
We can't wait to see what happens.
The House Rules grand finale will air at 7.30pm tonight on Channel Seven.