They're soft tufts of bready goodness protected by a glossy exterior.
With each bite, your taste buds are treated with a hint of creamy cocoa sweetness that counteracts what some might consider carbohydrate overload. Pfffft. Not this gal.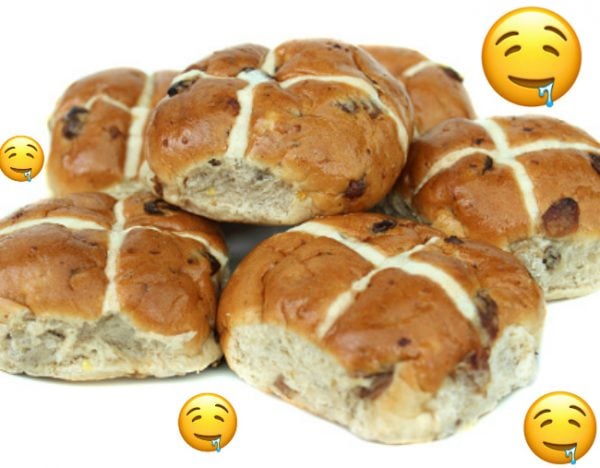 If you couldn't tell already, my preferred choice of bun is hot, crossed, and chocolate-chip flavoured. It's a crowd favourite and it never disappoints.
Yes, Easter is in April.
And yes, Christmas was just two days ago.
It seems this information has led the public to cruelly pit the two holidays against each other. But as per the wise words of the Spanish-speaking girl in the Old El Paso advertisement: Why can't we have both?
On Boxing Day, Woolworths began stocking hot cross buns in selected stores, and people were quick to express their disappointment in the objectively wondrous news.
Can Coles and Woolies wait at least until they've flogged off the Christmas crackers and rolls of wrapping paper before they bring out the hot cross buns! #santavbunny

— Sue (@giveitaburl) December 26, 2017
@woolworths have hot cross buns on shelves on boxing day #easterindecember #wtf pic.twitter.com/shYEbY9iqv

— fred farkle (@fredfarkle11) December 26, 2017
Both Coles and Woolworths informed Newscorp Australia that only some stores have chosen to stock hot cross buns this early – the stores where their bakers have decided to commence baking ahead of such a demanding holiday.
We commend these astute bakers. Good hustle.
"We know many of our customers love getting delicious hot cross buns as soon as they can and we see high demand immediately when they hit our shelves — with 10 million hot cross buns sold just in January last year," a Woolworths spokesperson told Newscorp Australia.
And let's face it, no one is freezing them for Easter. We are all eating them now.
All Woolworths stores will officially be selling hot cross buns as of January 2nd 2018, and Coles will do the same on January 3rd. Hell, they should be available all year.
Forget the Boxing Day rush, it's all about those buns, baby.
In 2018 Mamamia is launching a new community called Ladystartups for women who work for themselves or dream of doing so some day. We're already on Instagram (come join us @ladystartups) and we have big plans to help women grow their businesses, turn your side hustle into a full time gig or empower you to pursue your dream. Tell us what you want and need from us by taking this five minute survey and register at ladystartups.com to be the first to be updated when we launch.