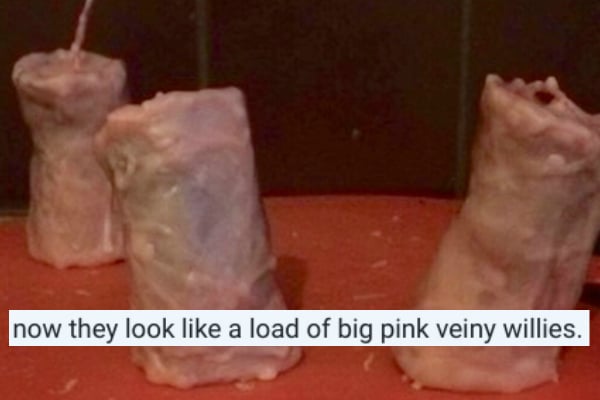 Handmade gifts are a thoughtful (and cost-effective) option for Christmas gifts.
But there is always the risk that they might not er… Turn out as planned.
In a post on Mumsnet, one woman shared that she has been working on a "little hamper of home-made luxuries like truffles, soaps and bath bombs, and scented candles".
She goes on the say her entire family are big Game of Thrones fans so she'd planned themed candles.
"I thought it would be cool to make white candles with a blood red centre, and then carve it to look like one of the Weirwood trees.
"So I made a lot of red, cinnamon scented wax and poured it into moulds made out of bog roll tubes."
So far, so good, she said.
Then she set about coating the red wax with the white and that's where things got a little… risqué.
"Now they look like a load of big pink veiny willies," she wrote in probably the funniest description of a candle ever.
Oh also, from a brilliant follow up message: "Everything is covered in wax and all I've got to show for it is a trio of chodes".
We need a minute.