I'm driving to Downtown Los Angeles, and my mind is wandering. Did the cheery radio announcer just slip something about mercury rising in your tarpaulin into her traffic report? Shake head, blink in sun. Of course not. I'm thinking of Raven – who I'm going to see again tonight.
Raven's situation is all too common in La La Land these days – she lives under a tarpaulin, next to a freeway. She has been living on the streets for most of her life, after leaving a violent home when she was 9.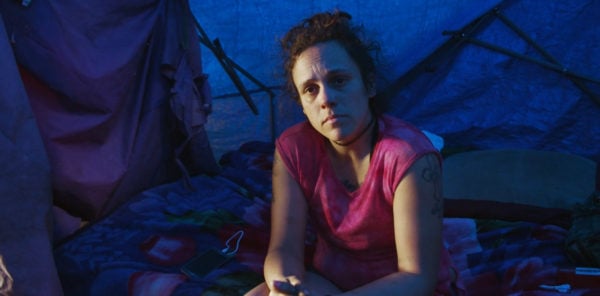 Until recently I, like most people in LA, have viewed those tarpaulin encampments like the one that Raven lives in with vague sympathy from the safety of my car. But as the months have worn on, they've gotten more difficult to ignore. Homelessness has risen by 23 per cent in the last year here – and the desperation is seeping onto almost every street.
Recent figures put the homeless population here at almost 58,000 – with women and families being the fastest-growing demographic. They're refugees from rising rents and domestic violence, and the streets aren't an easy place to take refuge. I'm hanging out with Raven and her friend Christine to try and understand what it's like out here – and I'm learning quickly.
I'm struck by the busy lives these homeless women lead. Nothing is easy on the fringes of society – whether it's keeping a cell phone charged, or finding somewhere to pee. The smallest tasks take hours to complete when you're navigating a spread out city with no car, no money and nowhere to get clean. Maintaining your personal hygiene or nutrition takes constant effort, and the lack of shelter mean those on the street are constantly sleep-deprived. Raven tells me people regularly lift up her tarpaulin and walk right in – Christine mentions cheerfully that she found a man sleeping on her bed the other day, then laughs and declares; "I pepper-sprayed him!"
Christine is extra busy because her business is collecting recyclables.
She has the money situation figured out, and hopes to be back in an apartment soon – but gentrification might have other plans, as people like Christine are squeezed out of newly unaffordable long-term housing. Christine is about to turn 50 – and she's only been on the street nine months. It's certainly not what she had planned for her life, and she's still got some fight in her to get out of the situation.