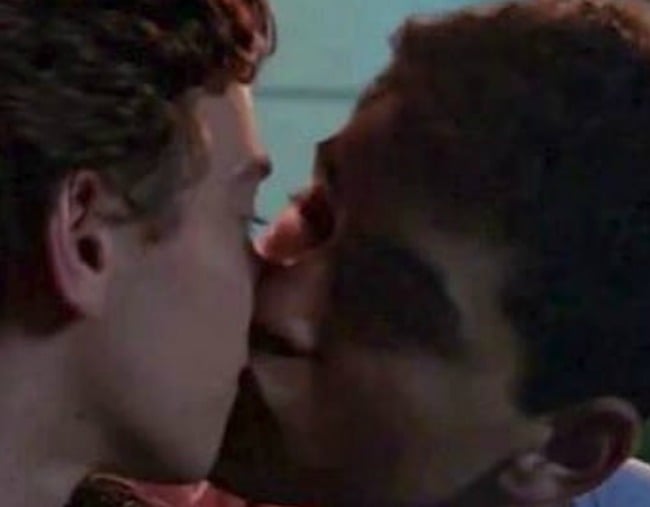 On Wednesday night's episode of Home and Away something glorious happened.
For the first time in Summer Bay history two characters of the same sex kissed.
Yep, it's 2018 and Australia's longest-running soap, AKA the one that aired its first episode in 1988, just dropped its first LGBTI storyline.
During a scene in last night's episode Ty (Darius Williams) leaned in to give his friend Ryder (Lukas Radovich) a kiss on the lips.
In the lead up to the kiss, the teenagers were discussing their friendship and Ty's growing feelings for Ryder.
"I like you, Ryder," Ty says.
"I like you too, man. You're the best!" Ryder replies.
"You mean that?" Ty asks, as he moves in and kisses his friend on the lips.
Ryder then pulls away and Ty immediately runs away, while apologising for the kiss.
The next morning Ryder explains to Ty that it's OK and he was just a bit "confused" by the situation.
Ty then tries to tell Ryder that he was just really tired and thought his friend was his girlfriend Raffy (played by Olivia Deeble).
"I was tired, I wasn't really thinking straight. I thought you were Raffy."
Seeing right through his friend's ruse, Ryder tells Ty that whatever's going on he's cool with it.
"You kissed me and I can't just ignore that," Ryder says.
"You think I'm gay, is that it?" Ty replies.
"Are you? Cos it's OK if you …" Ryder begins before Ty tells him to shut up and the two teenagers begin fighting on the beach.
The fight is broken up by Raffy, Alf Stewart (of course), and John Palmer.
Later when John asks Ty what the fight was about he says, "I'm a freak".
He then runs away from Summer Bay, leaving his girlfriend Raffy in the dark about his struggle with his sexuality.
The scene represents a huge step forward for the iconic TV show and it was met with an overwhelmingly positive reaction from the Australian public.
This is an important episode to watch. Many teenagers struggling with their sexuality often feel shame and hatred. They fear there is something wrong with them, that they won't be accepted. Watch this episode with your kids. #HomeAndAway

— ????Arkady ???????? (@Arkady2009) June 20, 2018