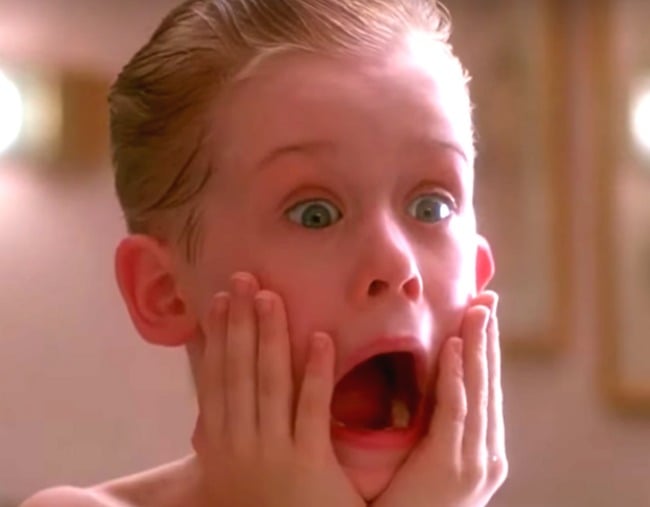 We love a good fan theory.
We especially love a good fan theory about possibly the best home alone-based Christmas movie of all time… Home Alone ¯\_(ツ)_/¯. 
And this one is particularly… convincing.
You see, a Reddit user named cubanesis has shared the very plausible fan theory about Kevin's dad, Peter McCallister.
The Redditor believes ole' man McCallister could be "some kind of mid level criminal for the mob".
Yep, it's the Home Alone/The Godfather crossover special we never knew we needed in our lives.
"We never find out what he does," the Reddit user explained. "They don't mention where he works, or his background, or anything… But Peter makes enough money to have a wife that doesn't work and like five kids. He also has a house that is worth like $1.5 million."
The Redditor then went on to point out a few "suss" things the patriarch of the McCallister mob does in the film.
"The very first time we see Peter is when Harry [played by Joe Pesci] is dressed as a cop scoping the place out," cubanesis wrote.
"Peter is WAY defensive in this interaction. All Harry does is ask if he's the owner of the house and Peter jumps straight to, 'Am I in some kind of trouble officer?' The look on his face is on edge the whole time he's talking to Harry."
The very clever theorist also points out that Harry and Marv could have targeted McCallister's house because he's in the mob.
"Harry calls the McCallister house 'The Silver Tuna', the big score, etc… When we see in the house there's nothing particularly valuable-looking around. We don't ever see them mention jewels or a safe or anything like that, but still this house… is THE HOUSE to rob."