PSSST – We have a 10% discount code: LADYSTARTUP
What is Chuchka?
Chuchka is a fashion company that appreciates stylish and luxe fashion items at an affordable price. I wanted to create items that I wanted, that are fashion forward, but aren't going to break the bank. It's the type of accessories I was always looking for at a price point that makes it affordable.
What were you doing before you went into business for yourself?
I am a qualified child and adolescent clinical psychologist and was working in both the private and public sectors.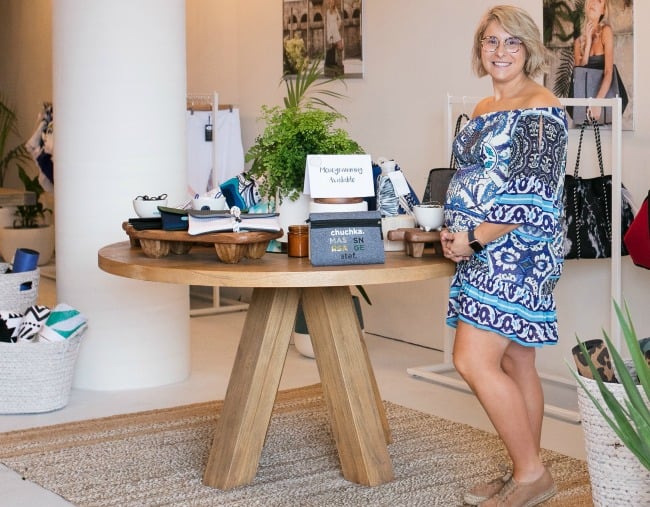 Stefanie Schwartz. Image: supplied.
What made you want to start your own business?
It really started as a bit of a hobby to keep my brain busy during maternity leave but quickly grew into a business.
I studied psychology and worked with children for about ten years, and when I had my own children I craved something more creative.
How did you come up with the name?
Chuchka is the ancient Yiddish word for 'trinkets' or 'collectables' - so what better word for my business creating exactly that. It's a word we used a lot in my family growing up to refer to cool accessories.
Describe the staff/ownership structure of Chuchka.
Originally, it was just me and I was doing everything from design to packing to customer service. When the business began to grow, I hired someone to be my second-in-command so I can focus on working ON the business, not IN the business.
I opened a pop-up store in Bondi over summer, so we have retail staff working in the store as well.
Did you require investment to start your business? 
I didn't require investment from an external source, but I decided how much of my own savings to use originally and bought a small amount of stock, designed my own website and did everything within that budget. I would then just reinvest as I made profits but never went over the original budget.
What's the one bit of advice you would give yourself if you were starting again?
Don't underestimate the time commitment that you need to give to build a successful business. It's not a nine to five job and if I'm not physically doing work on the business then I'm thinking about what I need to do, imagining great new products, scouting a new photo shoot location or taking pictures on my phone for social media.
At Mamamia we have an expression "flearning" - failing and learning. What have been your biggest flearnings since you have started your business?