Stop absolutely everything you are doing because NEWSFLASH! Hillary Clinton is not a human being. She is an evil, cheating robot lady.
You see, the Democratic candidate's cocktail of lies spilled when TV viewers caught a glimpse of her leaning over during the first debate.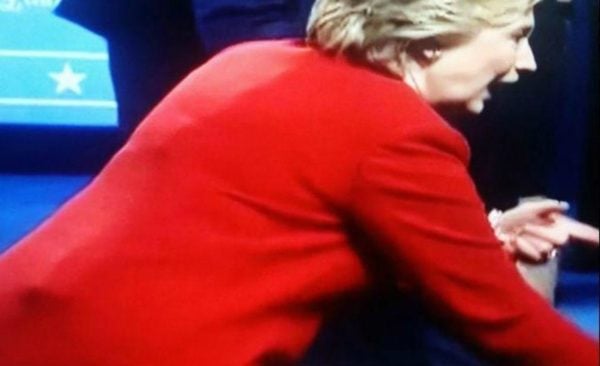 See that? Near the lower left-hand corner?
Yep, I'm talking about that boxy, evil-looking bulge. That, dear reader friends, means life as you know it is about to capitulate.
Top secret true story: If you put your face right up to the screen, tilt your head at a sharp angle and roll your eyes really hard, you can see the shape of an Illuminati triangle appear followed by 67 dancing elves and the local librarian.
I know. It's terrifying.
If that wasn't scary enough, remember the fact that Hillary Clinton doesn't even LOOK presidential. (Translation: Hillary Clinton doesn't look like she's an orange rich man.)
How people think this woman can be president I have absolutely no idea. I mean, she's a woman. Have we all gone mad?
It's preposterous. It's ridiculous. It's negligent... kinda like letting a glorified reality TV host who has a penchant for pageants and the political knowledge of a sock become the leader of the free world.
Anyway.
Trump fans don't buy my whole 'dancing Illuminati elves theory' because my dumb ovaries keep making me think all woman-like and stoopid. So instead, I'll pass the literary microphone over to them:
It's a microphone pack coughing prevention machine AND an earpiece. Duh.
If you haven't heard of a 'cough prevention machine', you clearly didn't have the cough-free childhood Trump supporters had. God bless you, wizardly machines and your asthma-curing ways! How trained doctors have not heard of thee I will never know.
But let's not get bogged down by facts and truth.