27-year-old Laura thought she had her whole life planned out: she had a fiancé, a 1.35-carat engagement ring, a house and an adorable pug puppy.
Her fiancé even had a new best buddy, named Brad, who he seemed very happy to spend lots of time with.
Things were looking great. Until Laura realised that her fiancé and Brad were…more than friends…
Enter, the most hilarious eBay listing to ever exist.
Now that the wedding is most definitely off, Laura is looking to off-load the ring to the next lucky lady, and she's got a hell of a way of telling the story of how she came to be "in my pajamas alone in the middle of the afternoon on a Friday " auctioning off her diamonds.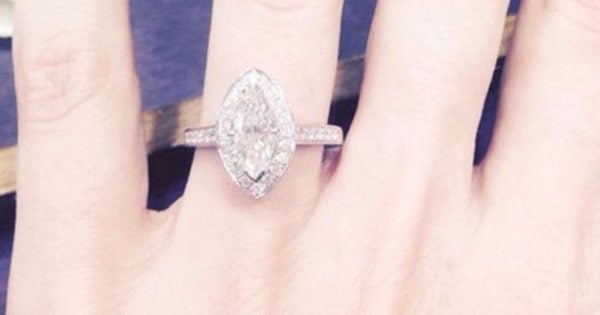 "So, you know when you're engaged to be married and then suddenly your fiancé starts spending a little too much time with his friend, Brad?" Laura begins.
"And you're like, 'Hey, it's okay, Brad's a great guy. He's pretty buff and he's a laugh and his fashion sense is amazing'.
LISTEN: Is being a bridesmaid the best, or worst job in the world? Post continues... 
"So then your fiancé starts not coming home at night because he and Brad had a 'wild one' and he comes back walking a little bit like John Wayne at 4pm the next day and you think 'Wow! It must have been a wild one since he can't walk straight anymore. 'They must have had a lot of good, clean fun together'."
Things got more bizarre when Laura found a pair of bright pink stilettos (in a size 11), a blonde wig, a dress and a worn pair of stockings.