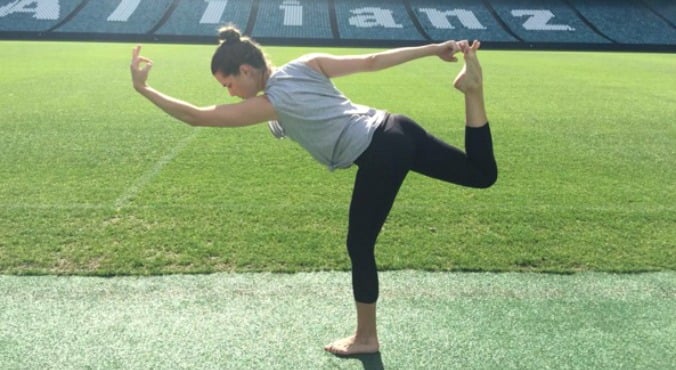 Image: Instagram (@heather_maltman).
In the real world, it's perfectly normal (and human) to sweat, go bright red, contort your face into terrifying expressions, and generally look a bit unkempt during exercise.
On social media, it's a different story. The Instagram version of fitness is all about gorgeous activewear, exotic locations, 'glowing' complexions and holding complex yoga poses without any visible strain.
Maybe this is the reality for some people, but it's nice to see a little realism on our feeds from time to time. Which is precisely why we're loving Heather Maltman's fitness posts.
The third runner-up from this year's season of The Bachelor is on a mission to 'stop the sexy' and shift focus back to what's important: the whole 'looking after your body' thing.
"Who cares if you're awkward or can't afford the hot gear. Just kick the s*** out of a bag and enjoy yourself!!! #getoutthere," Maltman captioned the above image last night.
Exactly. Kickboxing is not meant to look sexy — and neither is yoga, as the actress pointed out in another post on Sunday. (Post continues after video.)
"Exercise and yoga is not about looking hot and how expensive your outfit is. It's a way to get in touch with your body and feel good about yourself physically #stopthesexy #saveexercise #beyourbadself," she wrote.
Just quietly, we're relieved to see Maltman's yoga efforts don't look radically different to ours — a nice change from the so-called "yoga porn" that greets us (and, um, intimidates us) on Instagram every morning.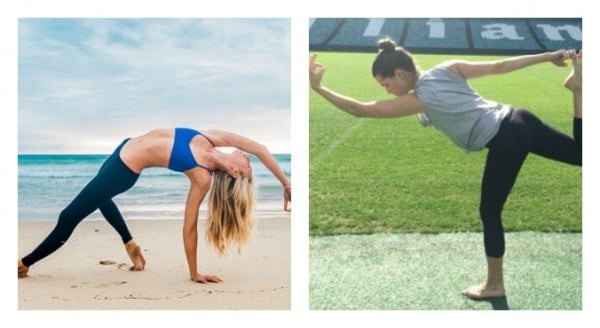 This isn't the first time Maltman has shared her fitness routine with her followers. She's often posting photos mid-workout, complete with amusing commentary and a good dash of realness.
"There is nothing #sexy about using your chicken arms to throw ripples in a rope in order to get #fit. NOTHING!!! But that's what I'm learning... It might not get you laid but I'll have some tight ass buns," she remarked alongside a photo of herself doing rope work with personal trainer Wade Anderson.
Last month she posted this video of one of her kickboxing sessions:
"It's called the @adieandwadieworkout and it makes the areas move that shouldn't be moving but they are moving cause you #EatChocolate and #DrinkBeer cause it's tasty. At least I have a touch more grace in this video!!!" she explained in the caption.
Chocolate and beer... yep, we'd be pretty happy to have Heather Maltman on our next dinner party guest list.
How do you exercise?
Honest motivational posters