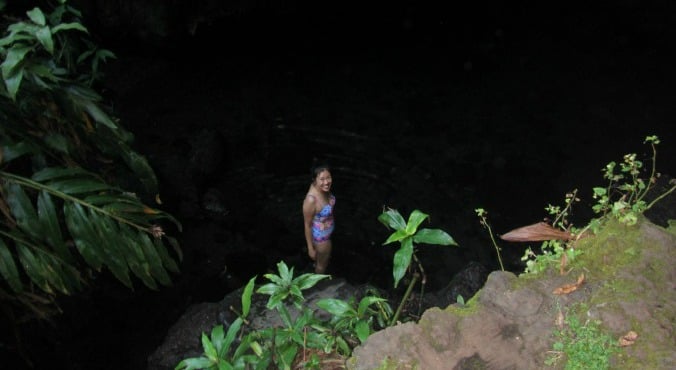 Image: Supplied.
I swam in a Hawaiian lava cave pool that was supposed to make me beautiful. It worked – but not in the way I expected.
I am not a risk-taker at all and especially not while on holiday. It doesn't matter where I am in the world – there will be no bungee-jumping, no snowboarding or even motorbiking because I do not want to die, have an accident or deal with travel insurance companies. But last year, during a trip to the Hawaiian island of Maui, I left all of my fears behind in the quest for one thing: beauty.
I mean, what else do you expect from a beauty editor? I'd already raided the island's Sephora store, and that wasn't enough to satiate my desire to acquire beauty in an exotic place. As soon as I heard that there was a lava cave on Maui filled with icy-cold waters with beautifying properties, I made sure it was nestled into our jam-packed itinerary of swimming, relaxing and eating seafood. (Watch: Why face mists are a holiday bag essential. Post continues after video.)
Wai'anapanapa Cave is formed from solidified lava and contains a deep and cold spring water pool. This pool sometimes turns bright red at night and Hawaiian folklore says that it is the blood of a slain princess. It is actually tiny red shrimp, but I prefer the princess story.
While skim-reading Lonely Planet in my hotel room, I thought I read that the pool had magical beautifying powers, which would make my hair, skin and everything simply luscious. Looking back at Lonely Planet now, I can see it says "the pools' crystal-clear mineral waters reputedly rejuvenate the skin".
More specific, less exciting, but that's what eating a crazy American diet of Ben and Jerry's and nachos will do to you: give you grand delusions and aspirations of beauty.