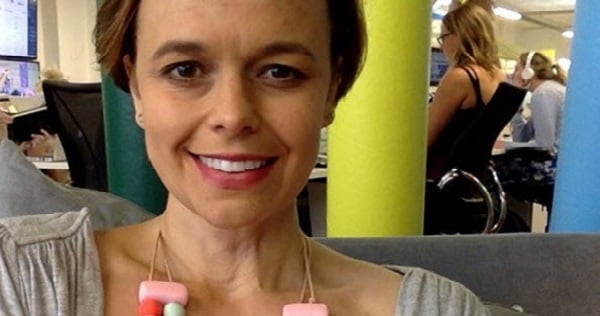 Sometimes I feel like I want to write a book called: I LOVE ALL MY STUFF.
It will be a tribute to all the things I own: my clothes, my shoes, my toiletries, my scented candles, my bottles of shampoo and conditioner, my sparkly jewellery, my rechargers, that cream I put on my feet so my heels don't get scaly, my books – even the ones I know I'll never read but that make me feel smarter just for having them in my house, my giant tea mugs, my many many lipsticks and glosses, the decorative cushions I keep on my bed except, perversely, for when I sleep, my coathangers and my bedside lamps that look like pineapples, all my various storage containers… all of it.
I love stuff. I love buying it and looking at it and rearranging it and then giving it to charity or friends and collecting more stuff. You may call it consumerism and I agree with you totally because without consumers our economy would grind to a halt and we would have to start printing money and I think we all know that never ends well. I buy stuff so you don't have to pay higher taxes, OK? It's a SELFLESS ACT. I feel very much alone on this one.
On the Mamamia OutLoud podcast this week, I went up against my co-hosts, Mamamia editor Kate de Brito and Podcast director Monique Bowley who are both anti-stuff.
You can listen to the conversation here:
Listen on iTunes here.
I feel like that's anti-Australian and I told them so. They mocked me which is probably fair enough.
But I'm sick of being told to reuse my teabags and my tampons.
I'm sick of being encouraged to forage in the bin for scraps to then make into new meals.
THEY'RE IN THE BIN FOR A REASON.
Kate brought a story to the table about the World's Stingiest Woman who lives on $5K PER YEAR and Kate explained to us a bunch of her tips and tricks and if you listen carefully, you can hear me making vomit sounds in the background.
Did you know Mia has a whole video series called Hey Mia? Watch her talk about dealing with haters here:
While Monz and Kate oooohed and aaaaahed appreciatively over these thrifty suggestions, I had to restrain myself from rushing out of the podast studio to BUY A BUCKET TO VOMIT IT.
I wonder if it's just me. I wonder if I'm the only one who loves my stuff this hard?
It just… makes me happy.
What about you? Are you pro or anti stuff? 
Listen to the full episode here or on iTunes here:
This post is part of Mia's weekly personal email newsletter, Hey Mia. For the whole version, which includes exclusive behind the scenes shots and links to her reccommended reads, videos and podcasts for the week, subscribe for free here.