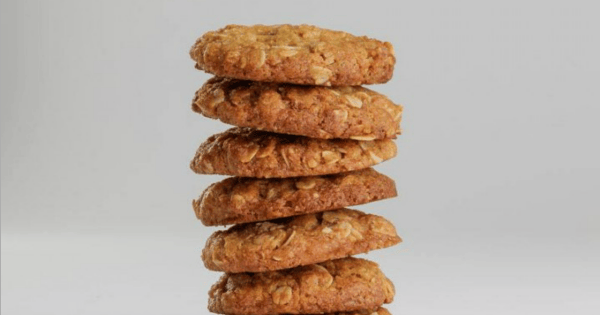 I don't like ANZAC biscuits.
THERE. I SAID IT.
I'll give you a moment to pick yourself up off the floor and swallow your impulse to yell, "f*ck off, we're full."
I figure I only have so many biscuits I can eat in one life time.
Why would I waste those opportunities on the world's most boring biscuit? Honestly, I'd rather eat a Scotch Finger.
Yes. I prefer a biscuit whose only selling point is that you can snap it cleanly in half, over that greatest of Australian food icons, the humble ANZAC.
ANZAC biscuits are dull and lifeless, and I only eat them under duress.
Let's break it down.
ANZAC biscuits contain oats, butter, golden syrup and flour. AND NOTHING ELSE.
They are presented unadorned to the biscuit consuming public. The chewy ones a like trying to get through three day old calamari rings, while the crunchy ones will cut your throat on the way down.
For those of you who agree with me, I suggest you make scones and add some delicious toppings. Post continues after video…
Where is the icing? Where are the nuts? The fruit? The chocolate? Why haven't we tzujed these babies up? If ever there was a biscuit crying out for a queer-eye-for-the-straight-guy action, it would be the ANZAC.
But the tradition of it, I hear you cry.
Biscuits lovingly baked back at home because of their longevity, sent to sons and husbands on the frontline as a special treat from home.
Yeah, like, I know. But, I ask you, wouldn't those same sons and husbands now like something a bit fancier?