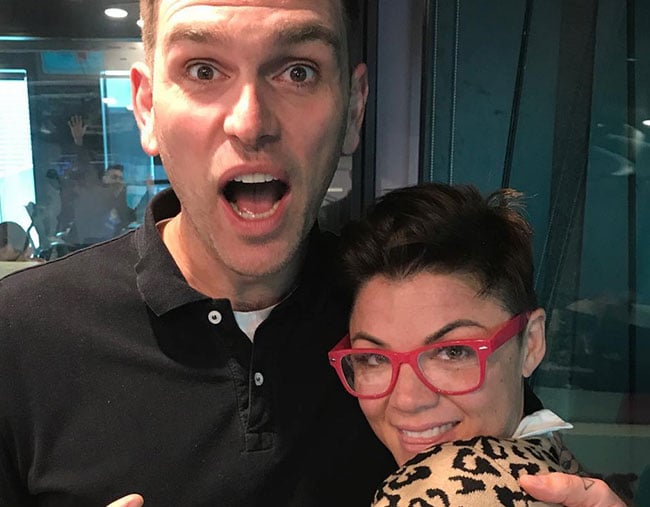 The Em and Harley show is losing one of its hosts.
Comedian Harley Breen announced he'd be leaving the radio show he hosts with singer and comedian Em Rusciano at the end of the year.
"I'm heading back to the fiscally responsible job of being a touring stand up – very smart. It's by no means an easy decision, but it's absolutely the right one," he said on air this morning.
"I love a lot of things that I've been fortunate enough to have in my life: my fiancee, my boys, and stand up. So I've made the choice to give those things my full attention going into the future."
He said he was very grateful for the opportunity and "grateful to you Em for vouching for me – nay, flat-out forcing me on the people of Sydney".
"The big guy has decided to leave the show at the end of the year. I'm very sad, but I understand why," Rusciano wrote on Instagram this morning.
"He's got young kids and is a very talented stand-up and wants to spend more time with both…I'm going to miss HB terribly, but I get it."
Breen's replacement has also been announced and he's no stranger to TV and radio.
Have You Been Paying Attention's Ed Kavalee will be joining the show next year, after announcing he was leaving Triple M last month.
"Harley has been a terrific Ying to Em's Yang and he'll continue to be a friend of the show. We love Harley and wish him all the best," Hit Network's Head of Content Gemma Fordham said.
"We know the Sydney listeners will love the addition of Ed to the show."
"And for what it's worth I think Ed Kavalee is a brilliant decision for the roll and I hope the show becomes the raging success it deserves to be," Breen wrote on Instagram.
After an initial lift in audience numbers at the start of the year after replacing Rove McManus and Sam Frost, the ratings dropped down to 4 per cent audience share in the latest radio survey. In contrast, WSFM's Jonesy and Amanda and KIIS FM's Kyle and Jackie O both have a 10.3 per cent share.
News.com.au reported that according to industry insiders, Breen and Rusciano had a "rocky relationship". In May, the pair reportedly stopped speaking to each other off air for a week after they had a disagreement in the studio.