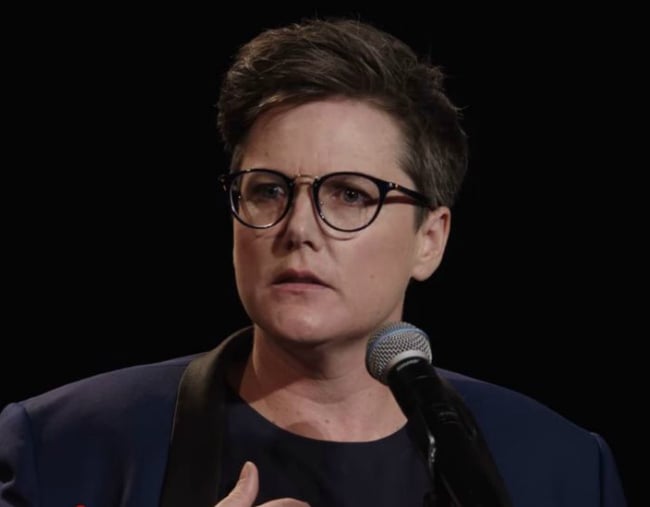 Hannah Gadsby was telling stories she had already told dozens of times when she performed her acclaimed show Nanette at the Sydney Opera House and had it filmed for a Netflix special.
But, sitting in the audience, her mum was hearing her unfiltered, heartwrenching words for the first time.
In an interview with The Project's Pete Helliar on Tuesday, Hannah revealed that her mum had seen two versions of the show. First, a "modified version" – and the only version her daughter ever intended her to see – in Hobart with her dad.
The comedian did not clarify how she modified Nanette in that performance, but she may be referring to her revelation late in the show that she had been the victim of both sexual and physical abuse as a child and young woman.
The 40-year-old said that she had intended to shield her parents from what would likely be a very uncomfortable experience.
"They don't need to experience in a roomful of strangers that level of, you know vulnerability, there is a certain amount of guilt, shame emotions they have to move through that they don't have to move through," she told the fellow comedian.
"I didn't want to put them through that. I modified the version of events there and I was happy with that."
However, when her mum insisted on seeing her perform at the Sydney Opera house – the same night it was being filmed for Netflix – Hannah accepted she was going to have to perform her show, unedited.
"What it meant for me, is that both my stakes for my career and also personal stakes were sky high," she recalled.
Making it worse was that she could see her mother in the audience.
"And that made it hard to perform because you have this and sometimes you have a place in the audience you keep returning to and that happened to be that vague point in the centre of that, I could see mum's hair and I thought – screw, you, mum!"
But that didn't mean every other performance of her show was easy. The actor said she was "going through grief" as she relived her childhood – and adult – trauma each night.
"It wasn't a performance, it was lived, you know, I could fill it in my body. I felt hurt, I felt pain, I felt the grief of, you know, wasted a life a little bit. Like – this didn't have to be as hard as it was."
"And I felt grief for little Hannah, you know, I was like 'oh, God, why wasn't anyone looking after me?'"
The night Hannah couldn't perform Nanette

Hannah Gadsby "breaks the contract" with her audience, by making them not only laugh, but really think, in her show Nanette. But when she went to perform the show in Cairns, something made her decide to swap out her rousing calls to action for more transactional jokes.
Hannah explained to Pete Helliar on The Project that the "solid jokes" at the beginning of her Netflix special are not what audiences around the country saw when she toured Nanette. Instead, she launches straight into serious subjects, which she feared left some attendees "furious".
"There was one show, I did, though, that I didn't do it, it was billed to be Nanette and I didn't do it and that was in Cairns," she said.
"And I went up and, you know, just sort of started doing the show and I just heard a bit too much… it was a rumble.
"I thought this could turn, I got scared and didn't do it.
"I just did the greatest hits and told a story about getting stuck on a water slide. Cairns will like that."
You can watch Hannah Gadsby's Nanette special on Netflix.