Today, is the end of an era.
After 11 years on radio, Hamish Blake and Andy Lee are moving on.
On Friday afternoon, the duo, along with their producer Jack Post, performed 'We are the Champions' by Queen to 6000 people at Margaret Court Arena.
Vance Joy filled the spot as their front man, in their otherwise very ordinary band, 'Cool Boys and the Frontman'.
It is impossible to articulate the legacy of two 30-something men who went to work everyday and injected fun into the lives of millions upon millions of people, all over the world, through periods when they needed it most.
They brought us something to look forward to, a daily dose of laughter and happiness that we might have otherwise gone without.
Hamish and Andy have been an unprecedented radio sensation in a climate when hosts and shows are more disposable than ever before. Their show has been the highest-rating radio series in Australian history, and the podcast version is downloaded more than one million times every week.
Unlike their competitors, Hamish and Andy have achieved the impossible. They have been laugh-till-your-face-hurts funny, without ever, ever being cruel.
They do not insult their guests. They do not insult their listeners. They do not seek to offend. They never laugh at someone else's expense.
And that is a lot harder than it looks.
A year ago, I wrote a love letter to the duo who cheered me up every afternoon.
Here it is, on the eve of their departure from radio:
*****************
I've fallen in love and, as is the nature of infatuation, I desperately need to talk about it.
It all began as an innocent school girl crush.
You see, I've loved Hamish and Andy since I discovered them, probably around 2006. They made me laugh. They had nice faces. That was that.
But in the last month, our relationship has rapidly progressed.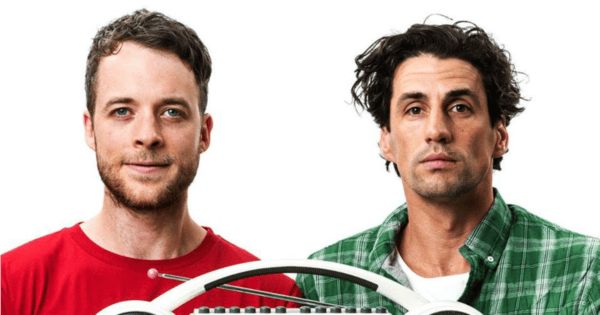 I'm going to come right out and say it: I'm obsessed with Hamish and Andy. And I'm pissing everyone off.
I find myself trying to drop them into every conversation:
Friend: "Work's been really stressful this week, I'm super tired."
Me: "Yes, well, they have this segment on Hamish and Andy called 'Upset Andy' where you have to call in and say something that will upset him because he is super tidy and organised, and yesterday one caller said that he yanks cords out from the power point without even turning the power off, and Andy got very upset."
Sorry @andy_lee but saw this and thought of you #upsetandy pic.twitter.com/4EuBPilFPR

— Rosie Hoinville (@RHoinville) August 25, 2016
Friend: *Pauses*
Me: "Oh. Don't worry...you had to be there."
Friend: "What does that have to do with anything?"
Me: "Well, funny you say that. That reminds me of a segment they do called 'Tell Us Someone You Don't Think We Have Thought About In A While', which is pretty self explanatory, but someone said 'Anastasia' last week and someone else said 'Tim McGraw' and I was like, 'DAMN, I really haven't thought of them in a while!'"
Friend: "I literally have no idea what we are talking about anymore."
Me: "Have I told you about their band, The Cool Boys and The Front Man/Woman?"
Friend: "Jesus Christ."
Oh, and have I told you about Hamish and Andy's radio school?
I find myself viscerally frustrated with anyone who doesn't listen to them because I no longer know how to have a conversation with them.
I am that girl, newly in love, who tries to relate even the most obscure conversations to my boyfriend(s). I know I'm doing it BUT I CAN'T STOP. 
Since rediscovering the Hamish and Andy radio show/podcast, my life has improved in ways I never could have imagined.
I look forward to my walk home from work, which is about 50 minutes, conveniently the same length as their podcast. Thus Hame and Ando (we're on nickname basis) are facilitating my exercise regime. Thank YOU.
As I walk down the street, people look at me like I am a crazy person because I am laughing with headphones in. Sometimes there are tears. Real tears. And I will MESSAGE my sister to tell her what they said, as IF THEY ARE MY FRIENDS.
Mamamia has some pretty great podcasts - listen to The Binge discuss the latest and greatest TV shows. Post continues below. 
Every single weekday I have something to look forward to. If I'm ever in a bad mood I know the ONE THING that will cheer me up. You cannot be mad/cranky/irritated while listening to two guys who are this funny. It's biologically impossible.
But it's more than that.
They treat every single guest with genuine respect and, similarly to Graham Norton, are able to bring out the best in even the dullest of guests. They are supremely talented in a way that appears effortless.
I am blown away every episode by their creativity and their ability to articulate just what everyone's thinking.
Most of all Hamish and Andy — oh God I sound so lame — they... they brighten my day. They bring me joy. They make me happy.
And sometimes, a bit of light in your life can make all the difference.
Featured image: Getty